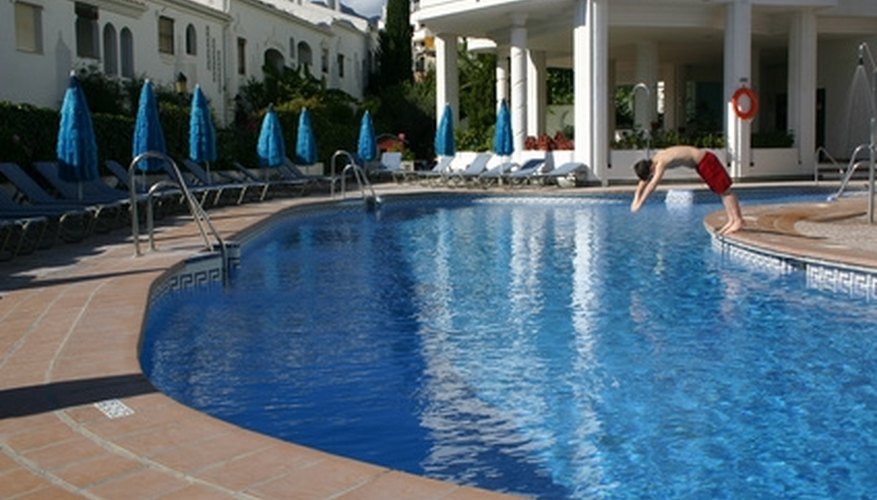 The most popular filter for pools is a sand filter. The water is filtered through sand that resides in the filter tank. From time to time, these filters may need repair. The most common repairs are replacing the sand or replacing the laterals in the bottom of the filter tank that keep the sand from going into the pool. Knowing how to do these repairs can save hundreds or even thousands of dollars in repair costs.
Shut off the filtering system. Make sure that the pump or pumps are turned off either by unplugging them or turning off the breaker to which they are connected.
Remove the band around the base of the multiport or for an older filter tank remove the bolts around the center of the filter tank. The tank should now be able to be opened, providing access to the sand.
Remove the sand from the tank by one of three methods. The first method is to scoop the sand out by hand with a plastic scoop. The second method is to tip the filter tank on its side and remove the sand that way. The third method is to use a swimming pool filter sand vacuum that attaches to a garden hose and allows for easy removal of the sand.
Drain the filter tank by removing the drain plug that should be found around the base of the filter tank. Open the air valve at the top of the filter tank to facilitate draining the water.
Replace the laterals if they are broken. Laterals are small tubes with slits in them that set on top of a manifold at the bottom of the filter tank. Their job is to let water flow through the tank but keep the sand inside the tank. If sand is getting into the pool, it is a sure sign that there may be one or more broken laterals. Simply remove the laterals and manifold and replace it with a new one purchased from a pool supply company. If the tubes are removable from the manifold, just the broken tube or tubes can be replaced.
Fill the tank with water to 4 inches above the laterals. Cover the manifold pipe that sticks straight up so no sand gets into it. Add the new sand slowly and carefully. Reassemble the filter tank and turn on the filtering system.