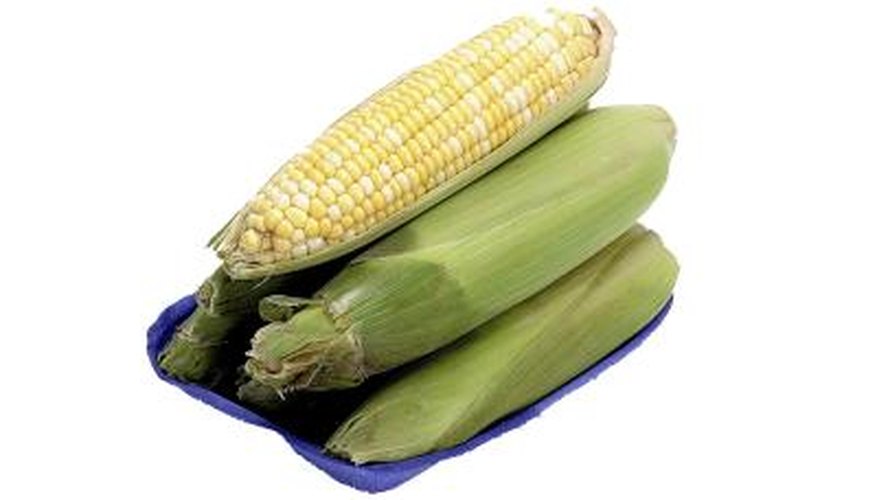 Sweet corn is susceptible to corn earworms that eat leaves and silk and then bore into the corn ear. These worms (also known as cotton bollworms and tomato fruitworms) are the larval stage of the corn earworm moth that lays eggs on the silk of sweet corn. The best time to kill corn ear worms is before they hatch or before they begin to bore into the ear. Once they have entered the ear, it is extremely difficult to eradicate them.
Killing Worms on Sweet Corn
Step 1
Plant early. According to the University of California Integrated Pest Management program, damage to sweet corn crops can be substantially decreased if you plant very early. The most damage is done as the season progresses and the corn earworm moth continues to lay eggs, which can overwhelm the corn plant as the larvae emerge. According to the Canadian Ministry of Agriculture, planting sweet corn so harvest falls before mid-August insures a worm-free crop.
Step 2
Employ biological controls. Predacious insects such as the damson bug, lacewing, and minute pirate bug can keep corn earworm under control. Parasitic insects, like the Trichogramma wasp, lay their eggs inside the corn earworm eggs, using their hosts as food.
Step 3
Use organic compounds. Organic farmers spray naturally occurring bacteria compounds, like Bt proteins (bacillus thuringiensis), on corn crops. You can treat small crops by rubbing mineral oil on the silk of each ear to discourage egg laying, but this is time-consuming.
Step 4
Research pesticides. If early planting and biological and organic solutions do not work, consider spraying with Entrust, the organic brand of the insecticide Spinosad. Entrust, the fermentation of a tiny organism called actinomycetes spinosa, should be sprayed directly on plants in adequate amounts to drench the silk. Spinetoram and Methomyl are also effective pesticides for sweet corn, though methomyl can harm some sweet corn varieties.
Step 5
Base your spraying schedule on temperatures and traps as the University of Massachusetts Insect Management program suggests. In higher temperatures cornsilk will grow faster and provide more area for egg laying, so spraying must become more frequent. Use traps baited with cornsilk to keep count of earworm moths, refreshing the bait every 14 days.
Step 6
Spray crops three to six times a week to kill the eggs before the earworm hatches and bores into the corn since pesticides cannot penetrate the husk. Decrease spray intervals as temperatures and moth counts increase. End spraying when silk is brown and dry but at least a week before harvest.