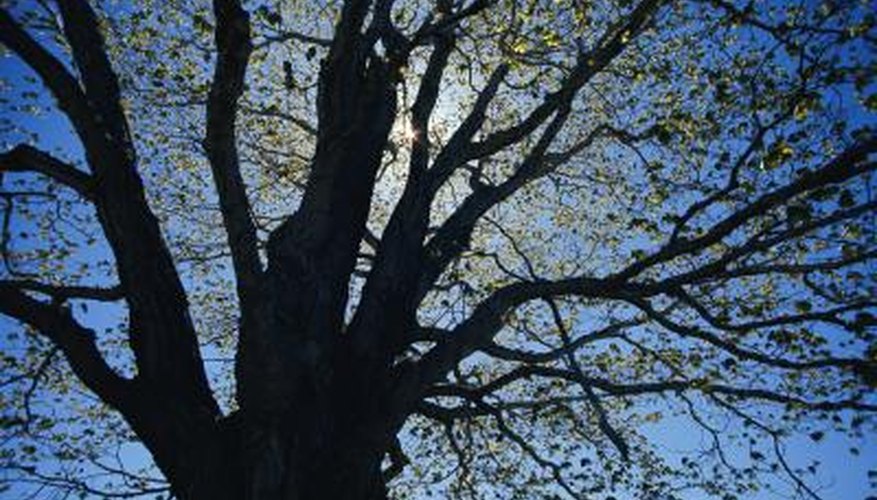 There are many possible causes for oak tree leaves to curl up and turn brown at the edges, including fungal and bacterial diseases, insect infestation and improper growing conditions. The consequences to your trees can range from minor cosmetic damage to extensive leaf drop and even death; the earlier you can identify the source of the curled leaves, the sooner you can take action to correct the condition. It may take some detective work on your part, but with careful observation and some basic gardening techniques you should be able to troubleshoot the problem and restore your oaks to their normal leafy splendor.
Step 1
Examine leaves carefully for the signs of taphrina caerulescens fungus infection, also called leaf curl or leaf blister. This disease, promoted by wet foliage, strikes white and red oaks in late spring or early summer. Look for circular, raised yellowish-white spots that turn reddish brown and then dull brown or gray over time, and for blisters that merge together, causing the leaf to curl up at the edges. Look for excessive amounts of fallen leaves at the base of the tree, as leaf curl disease causes leaf drop. Although heavy infestations of leaf curl are unsightly, this disease doesn't endanger the tree's life.
Step 2
Prune the tree to promote increased sunlight and air circulation, and burn or dispose of fallen leaves so that fungal spores don't overwinter.
Step 3
Check leaves for signs of erineum mites, which cause blistered, curled leaves, galled--or swollen--twigs, and yellow to orange masses on the undersides of leaves. These masses can mimic the appearance of taphrina fungus; you can distinguish between the two by recognizing that while taphrina produces spores on both sides of the leaf surfaces, the erineum mites only create their masses on the undersides. Use the magnifying glass to confirm your diagnosis by looking for the extremely tiny mites under the leaves. If mites are present, spray with a miticide containing diazinon.
Step 4
Evaluate the amount of water your oak trees have been getting. Both under-watering and standing in poorly-drained soil can cause curling leaves.
Step 5
Have soil checked at your county cooperative extension office, or use a testing kit, to make sure your soil contains the proper nutrients for oak trees; curled leaves can be a sign of deficiencies.
Step 6
Rule out bacterial leaf scorch--especially if you live in the mid-Atlantic or southeastern part of the U.S.--by taking a leaf sample to your county extension office for expert analysis if none of the other causes seem to apply.