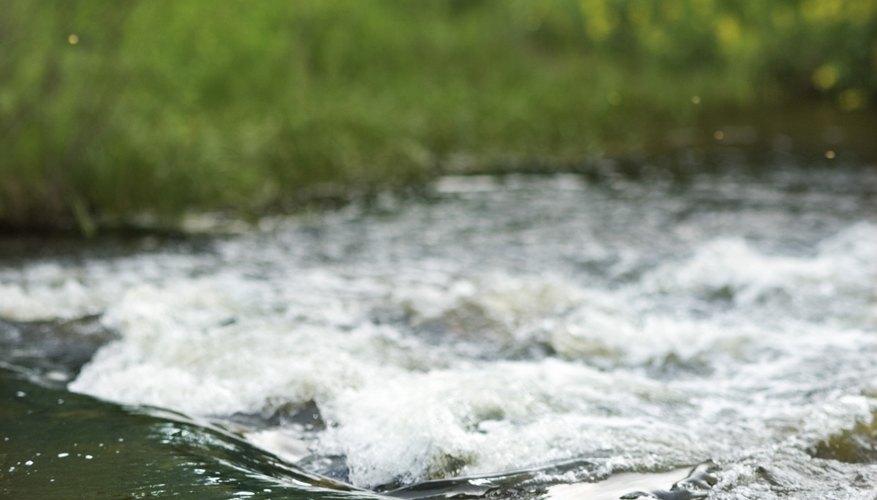 Hydroelectricity started with the idea of using water pressure and running water to power turbines, which generate electricity. However, the idea of using water for energy has been around for centuries. Mills were often built near rivers and other water sources to power similar concepts of turbines to do work. If you have a strong stream or river on your property, you can build your own home-made hydropowered source for electricity.
Make your own hydro electricity
Locate a place where the water is flowing the strongest and that is safely accessible to you. Look for places where water is funneled into a smaller channel or is falling over rocks. These will most likely be the places of the most current flow. Most importantly, identify where the water is at a steep slope, as this will represent the potential energy in your system.
Although it is difficult to accurately measure, you will need one hundred gallons of water per minute, falling ten feet in order to generate 80 watts of electricity. Alternatively, you can also use five gallons of water per minute falling two hundred feet through a pipe. Also keep in mind that water levels and the amount of cubic feet per second (CFS) that passes through your location will constantly be in flux according to rainfall.
Dig a small channel for your penstock to carry water from the river to your powerhouse. The penstock should still maintain a downhill angle and as steep as possible in order to create as much power through transferring the potential energy of the slope into kinetic energy of the water flowing faster. The faster flowing water will then be transformed into electrical energy via the turbines that will be located in the powerhouse.
Align your turbines with the penstock so that the maximum amount of water is falling from through the turbines. Build a pathway for water to return to the stream or river. Consider lining the pathway with large rocks or water plants in order to help prevent erosion. If you do not find a way to prevent erosion, then eventually your powerhouse may collapse due to instability in its foundation.
Erect a protective structure over your penstock and turbine system. You can also include space for the deep cell batteries in the powerhouse structure. Remember the stats in Step 1 about how much water needs to fall and how far it needs to fall. The farther the water falls before hitting the turbine, the more power will be created into the system, thus creating more electricity.
Wire your system. Be sure that you place your electrical regulator between the turbines and the deep cycle batteries so that the batteries are not overcharged. If you find that your batteries are always charged, then you may be able to get more electricity by capturing the excess electricity that is discharged by adding more batteries. Run wiring from the batteries to your home and connect it to an AC converter so that you can utilize the DC current of the electricity for home appliances. Install an outlet that will be connected to the AC converter.