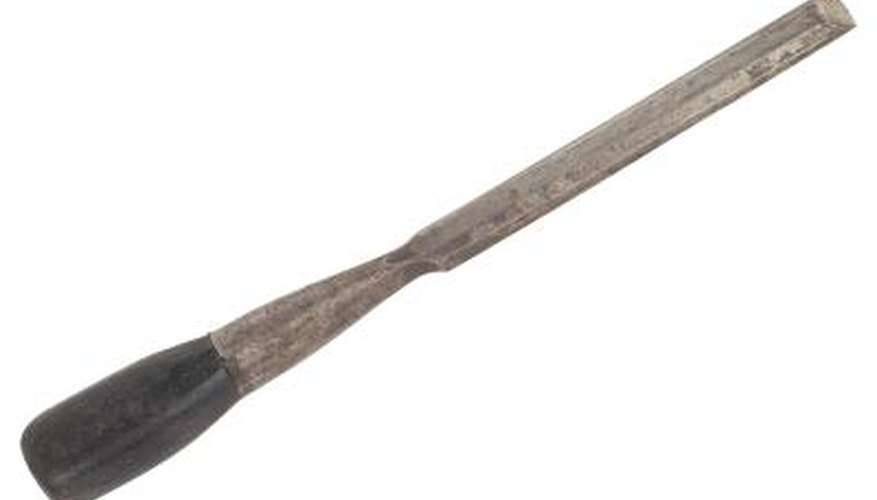 Matching different types of mortar is necessary any time you do a repair or addition to brick and masonry. Properly matching the mortar ensures that the new construction blends in with the older construction, thus providing a uniform appearance. Matching the type of mortar requires a bit of trial and error to determine the type of sand that was used. Matching the color of the mortar is a little more difficult as mortar changes colors when exposed to sunlight and other outdoor elements. Removing a sample of the mortar is the best way to begin attempting to match it.
Step 1
Locate an area of mortar that needs to be repaired. Place a chisel into the mortar and gently tap the end of the chisel with a hammer. Collect the mortar by scraping it out of the masonry with the end of the chisel.
Step 2
Place the mortar on a hard, durable surface and grind it onto powder using a small piece of wood. Just break up the mortar, don't pulverize the sand.
Step 3
Mix 1 oz. of muriatic acid with 10 oz. of water in a disposable container. Stir the solution well using the end of the chisel to combine.
Step 4
Pour the mortar into the muriatic acid solution, place it in a safe location and allow it to sit for two days. The acid will dissolve all of the particles except for the sand.
Step 5
Pour most of the acid water into a toilet, being careful to retain all of the sand in the container.
Step 6
Pour 1 to 2 cups of water into the container and stir to remove any remaining traces of the acid.
Step 7
Strain the water out of the sand by pouring the solution through a paper towel. Set the sand in a well-ventilated location until it is dry.
Step 8
Take the sand to a local sandpit or home improvement store to find a match for the sand's color, size and consistency.
Step 9
Pour 1 cup of the new sand into a container. Mix in 1 tsp. each of lime, white cement and gray cement. Compare the color to the existing mortar on the masonry. Continue adding small amounts of these materials to adjust the color of the sand.