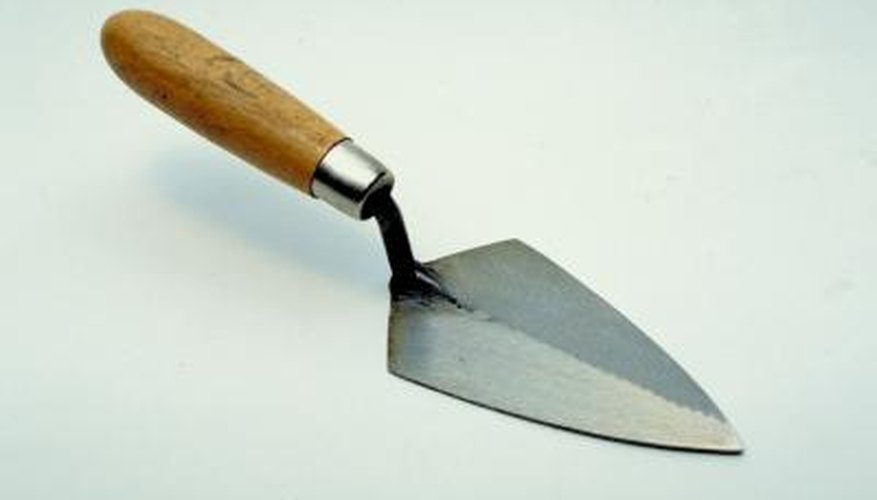 One of the easiest ways to create a patio in your backyard is to create a concrete slab. While the project might be a bit easier than laying flagstone or brick, the application still has its challenges. To successfully lay the concrete slab, you need to create a framework from 2x4s and properly pour and smooth out concrete.
Step 1
Measure out the dimensions for the concrete slab and place a wooden stake at each corner. Next, connect these stakes with a piece of twine or string. You will then work entirely within the confines of the space you just created.
Step 2
Excavate the space with a shovel and remove the soil where the slab will be located. The depth of the hole needs to be larger than the thickness of the concrete slab. This is because you will add a 4-inch layer of gravel to the entire excavated area.
Step 3
Create the dimensions of the concrete slab by laying out a framework of 2x4s. You will set up the 2x4s in the shape of your concrete slab and with the exact measurements in mind. To keep the framework in place, drill small wooden stakes into the 2x4s. These 2x4s must be placed on the opposite side of where the concrete will be spread. The stakes should be screwed into the 2x4s and placed about 2 feet apart.
Step 4
If local code requires, add a layer of mesh or metal screening over the entire area to serve as an interior reinforcement system.
Step 5
Mix the concrete according to the manufacturer's directions. Then begin shoveling clumps of concrete on top of the gravel or the mesh screening. Spread several clumps of concrete over the entire area and begin smoothing it out. Add more concrete to spaces within the framework where it is needed and continue smoothing it out. Let the concrete dry overnight.
Step 6
Remove the framework of 2x4s. Mix another batch of concrete and fill the remaining spaces where the 2x4s were located. Pack the concrete in with a shovel and smooth it out with a trowel so it blends seamlessly with the rest of the dried concrete. Let the concrete dry for another 24 hours.