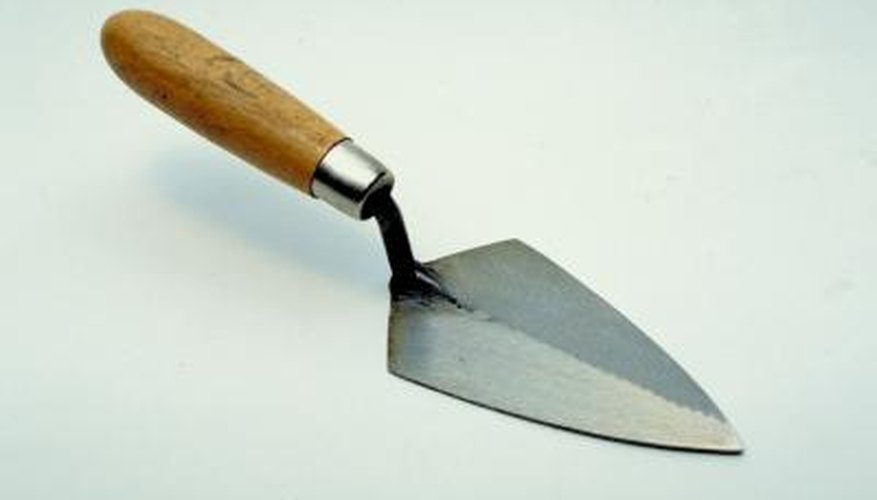 Although cement (or concrete) floors are known for their durability and low maintenance, they eventually need be resurfaced. You resurface your cement floor because of damage from water chipped or worn-down paint or simply to give your floor a more-attractive appearance. Cement floors have a glossy surface when properly resurfaced. A big key to painting the floor is to first properly prepare its surface.
Step 1
Fill in any areas of the floor with a cement filler, if necessary. Use a trowel to level the filler with the floor. Allow the filler to dry.
Step 2
Remove any rough spots on the floor with a multi-disc sander/grinder. The disc for the first standing should have a medium-grit range.
Step 3
Place a 300-grit disc on your sanding machine. Sand the floor again until it is smooth.
Step 4
Sand the floor one more time with a disc in the 1000-grit range.
Step 5
Brush and vacuum up all dirt, dust and debris from your floor.
Step 6
Clean the floor thoroughly with a cement cleaner. These products are readily available at home improvement and hardwood stores. Allow sufficient time for the floor to dry.
Step 7
Brush a coat of epoxy concrete floor paint on your floor in small circles. Check to make sure the concrete has no brush marks.
Step 8
Allow the paint to dry for the time recommended on its label. Apply at least one more coat of paint to your floor.
Step 9
Allow the area to remain untouched for as long as is practicable in order for the floor to cure.
Step 10
Buff your cement floor with the sander and a buffing disc.