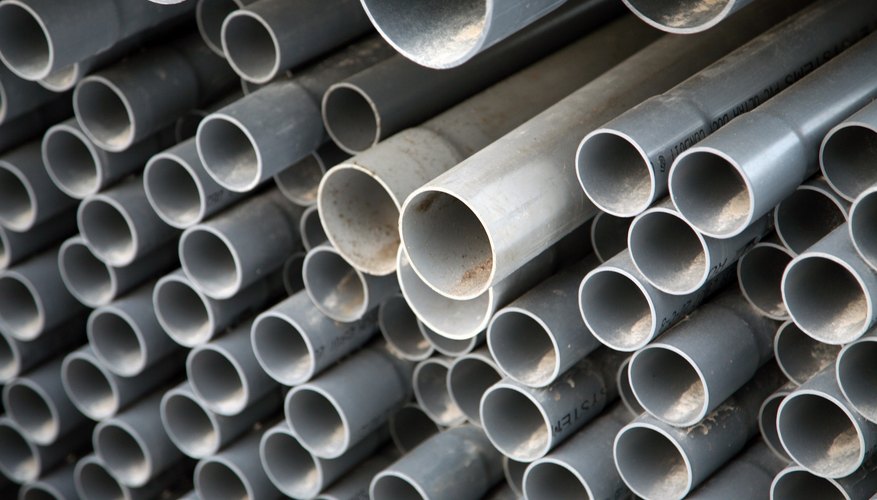 If you are a gardener, having your own backyard greenhouse is fun and rewarding. You can grow your own seedlings, saving you a bundle of money and enjoy the outdoors earlier than other gardeners. Dome greenhouses can be expensive to buy, but there is a way to make a PVC pipe dome greenhouse that is relatively simple and much cheaper.
Frame Assembly
With the flush-side down, place at 2-foot pipe in both ends of a four-way connector. Another four-way connector goes on the end of each of these pipes. Repeat this process 10 times, until you have the 20-foot base laid in a circle.
Form triangles by fitting two PVC pipes out of the open ends of the four-way connectors, pointing up. This will create the first row of the dome.
Connect the triangles by attaching five-way connectors on two of the pipes sticking up. Alternate the five-way connectors with the six-way connectors all the way around the first row of the dome.
Horizontally this time, place 10 more PVC pipes between these connectors to begin the second row.
Create more triangles by fitting 15 more pipes in the rest of the openings in the second row.
Use the five, six-way pipe fittings on top of these triangles. These connectors will hold three pipes each from Step 5.
Between these six-way fittings, place five more 2-foot PVC pipes in horizontal fashion.
Position the last five PVC pipes pointing toward the top of the dome and close it with the last five-way connection. Create a space for the door by removing one inverted triangle's pipes near the bottom of your greenhouse.
Drill holes in each pipe and fitting. Then insert a bolt and washer through the hole and secure it with a washer and nut on the other side of the fitting. This will reinforce your frame. Place the bolts to the outside of the dome (and the nuts to the inside) to prevent damage to the plastic dome covering.
Drive the four T-posts into the ground on the inside of the dome, catching the bottom layer of PVC pipe to create stability.
Greenhouse Covering
Splice pieces of plastic together using clear packing tape to create 320 square feet of polyethylene. With someone's help, pull this UV stabilized polyethylene over the frame of your greenhouse.
Using the clips, secure the plastic to the frame. Bury the excess plastic on the sides with soil to prevent it from blowing up in a breeze.
Make a door flap by cutting the polyethylene along the space you created at the bottom of your greenhouse. Use the packing tape to prevent it from tearing farther up than you'd like. The flaps can be tied back with clips for ventilation, or clipped shut to trap heat and moisture.