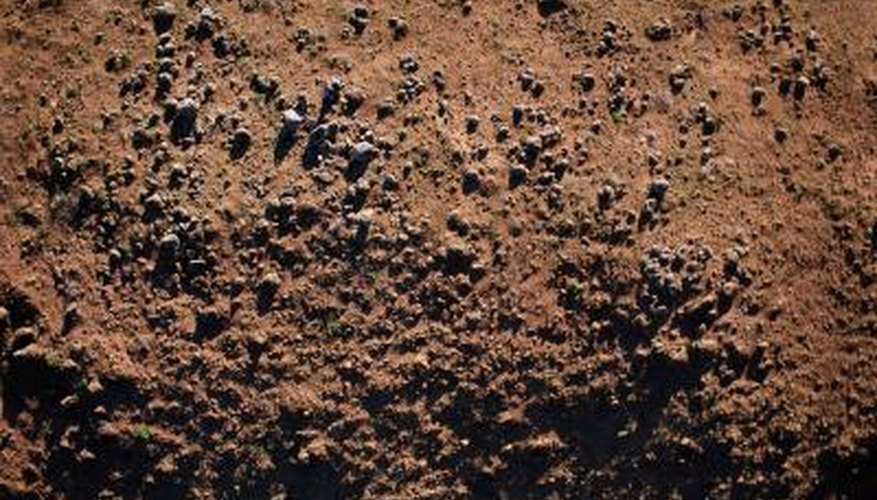 If you notice yellow, red or orange rings or spots marring your lush green lawn, you may have a soil fungus problem that has spread into your yard. Soil fungus problems often occur as a result of mulching or composting. While mulch and compost do help control soil temperature and improve drainage, fungi living in the mulch can cause problems for your grass and plants if the mulch or compost was not decomposed or treated properly.
Step 1
Purchase a fungicide approved for use on the type of grass and plants you have and apply it to your yard according to the manufacturer's directions.
Step 2
Mix water and baking powder together in a spray bottle and apply it directly to areas with soil fungus problems. Use 2 to 3 tablespoons of baking powder in a 16 to 20 ounce spray bottle. Do not add so much baking powder that the mixture becomes too thick to spray easily.
Step 3
Sprinkle corn meal over fungus-infested areas. The cornmeal will soak up the moisture and help kill certain types of fungi.
Step 4
Add nitrogen to woody mulches to prevent the mulch from taking nitrogen from your plants. Add grass clippings to your wood mulch before composting or use poultry manure or urea to add nitrogen.
Step 5
Saturate compost and mulch with water right after applying them to your soil. Water helps promote the growth of helpful bacteria that attack harmful fungi, reducing the chance of developing a fungus problem.