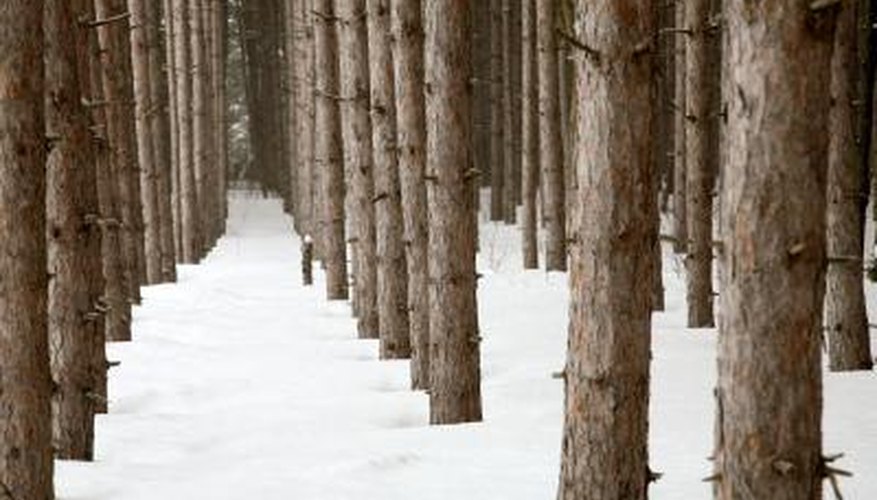 Growing pine trees for timber is a long-term investment that can reap future rewards. Though it can take over 30 years for a pine tree to be ready for timber harvesting, it is a practical use for marginal or abandoned farmland. White Pine in particular is a good tree crop, as it has few natural predators and grows quickly with little management. Proper management is crucial in growing pine trees for timber, though. The highest prices go to the highest quality of trees.
Step 1
Choose the type of pine tree best suited for your land. White pines are best suited for coarse, sandy soils while Valley pines grow well in loamy, somewhat poor-draining soils. Consult your local nursery for information on pine trees in your area.
Step 2
Prepare the planting site by removing competition for light and nutrients. You may use an herbicide, lawnmower or a controlled burning method to weed out competitive plants. Grass, in particular, competes with pine seedling roots for moisture.
Step 3
Plant 2- or 3-year-old seedlings with 10-by-10-foot spacing. This will yield approximately 435 trees per acre and provide adequate room for growth and harvest. Follow your local nursery's planting directions for your specific type of pine.
Step 4
Prune off dead branches up to 17 feet in height on trees no larger than 7 inches in diameter. This will remove unsightly stubs and ensure cuts are covered by new wood before harvest.
Step 5
Fertilize seedlings in early spring to encourage rapid growth. Use a balanced formula specially formulated for pine trees and follow label directions for application.