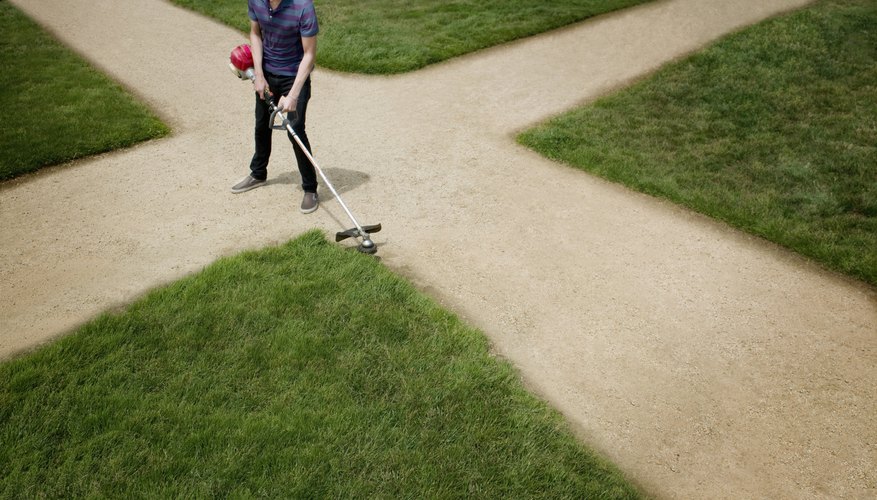 Stihl includes detailed maintenance instructions for Stihl string trimmers and brush cutters in each model's owner's manual. A maintenance chart divides tasks into categories by how often particular actions or inspections are needed. Safe operation means checking some parts of the machine before every use. Other maintenance steps may only be required once a year. Many of the ordinary maintenance steps also help troubleshoot common operating problems.
Inspect the Stihl string trimmer completely before every use. Look for leaking gas and loose screws and parts as well as anything obvious like a missing fuel cap, empty gas tank or broken deflector. Check the trimmer head for any debris wrapped around the shaft. Fix any problems before operating the machine.
Start the machine. Let the engine warm up to normal operating temperatures. Release the accelerator trigger and observe whether the blade or line revolves at idle speed. Cutting heads should not turn at idle but the engine should not stall. Adjusting fuel mixture at the carburetor should be a last resort, because many other factors influence performance. Check, clean or replace carburetor air filters and muffler spark arrestor screens before adjusting carburetor settings.
Run the Stihl line trimmer at normal operating speed. Check for unusual vibration. Inspect grips and controls for loose parts or missing and broken rubber anti-vibration bushings or metal springs. Shock absorbing parts do not affect machine operation. Vibrations do contribute to fatigue and may cause permanent damage over the long term. Numb fingers after use indicate dangerous vibration levels.
Inspect and clean the Stihl trimmer after use. Let the engine cool to a safe temperature before inspecting and clearing vents in the engine shield. On models without catalytic converter exhaust systems, check the spark arrestor screen at the muffler exhaust port. Clear away any obvious debris and clean or replace the muffler screen if debris blocks exhaust flow.
Replace spark plugs after 100 hours of machine operation. Consult the manual for the proper gap setting. Check the gap with a feeler gauge and adjust with a gap tool if necessary.
Check for lubricant in the gearbox at the base of the cutting head every week. Unscrew the cap on the gearbox port and look for grease. If there's no grease, squeeze a small amount into the port and replace the cap. Don't fill the gearbox completely full.
Decarbonize the engine with a fuel additive after 139 operating hours. Mix a two-cycle engine additive designed for freeing rings and cleaning combustion chambers in enough gas/oil fuel to fill the tank. Run the trimmer until the tank empties. Repeat the procedure every 150 operating hours thereafter.
Things You Will Need
Phillips screwdrivers

Flat-head screwdrivers

Spark plug

Feeler gauge

Gap tool

Spark arrestor screen

Brass wire brush

Stihl gear lube

Decarbonizer fuel additive
Tip
Stihl technicians should adjust engine valves after 139 hours of operation. The fuel pickup body in the gas tank should be checked and replaced by a technician after one year. Professionals also service anti-vibration system parts.
Resources