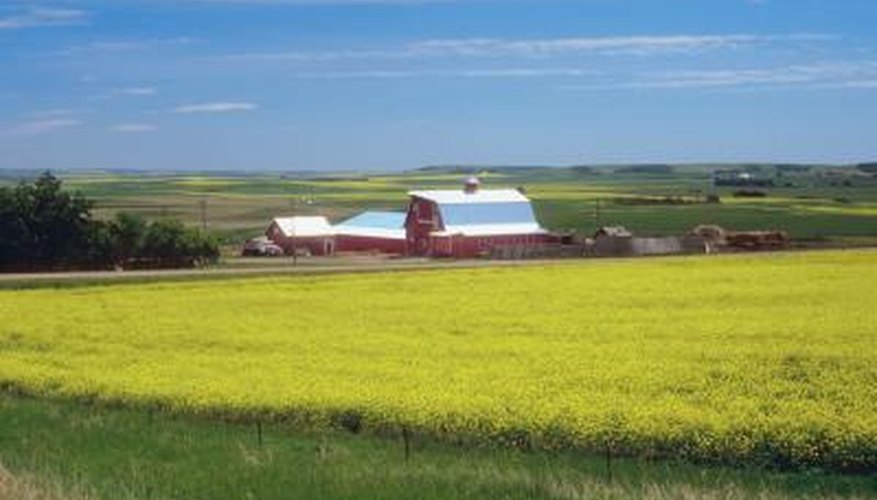 Identifying good farm land is a difficult task. There are many factors that you must take into account, not the least of which is your own personal goals and aspirations for the land. Wealthy individuals retiring to the country may envision rolling fields of wheat, whereas enterprising idealists may need shady groves for special cultivation. Obviously, the land must differ in its essential qualities to meet the criteria of "good" farm land for each individual, and this doesn't take into account the fact that there are more than two types of people looking for farm land these days. Understanding the underlying elements of land and geography, though, will enable you to take a critical look at any land in question to make a determination of its inherent value for your specific purposes.
Step 1
Obtain permission from the current landowner to walk the entire property. Take a notepad and record the proportions of the landscape: How much is forested? How much is flat, level and open? Are there any ponds, and if so how many and how large? Make note of any valleys, ravines or gulches that may not be suitable for your purposes, and be sure to deduct such land from your final acreage calculations.
Step 2
Feel the earth. For agricultural purposes, you'll certainly want a black, loose soil. This is good for raising crops, but also for good drainage and for grass, which is essential for any livestock you may envision raising. Be sure to feel the earth at random throughout the property, not just in ideal locations which may have been heavily amended to reach their current quality level.
Step 3
Determine the subterranean landscape as best as you can. You don't need to know what lies beneath the soil 20 feet down, but understanding how rocky it is at 2, 3 and 4 feet deep can be extremely helpful. Rocky land may be suitable for livestock and certain crops, but it can make large scale crop production difficult if there are sheets of limestone just beneath the soil surface.
Step 4
Examine neighboring land, not just the land in question. Farmland that lies downhill from a manufacturing plant may have chemicals or other harmful substances leeching into the ground, making crop production and animal health poor. Most likely, this will not be a problem, but it can be difficult to unload such land once it is in your hands.
Step 5
Purchase farm land only if it meets your specific needs, unless you are willing to be forever confined to whatever qualities a certain beloved property offers. In some cases, that works out fine, but for many individuals the result of such a land deal can be financially catastrophic. It is much better to look for farm land with a clear idea of what you are going to do with it, so make your final plans before you start touring the countryside.