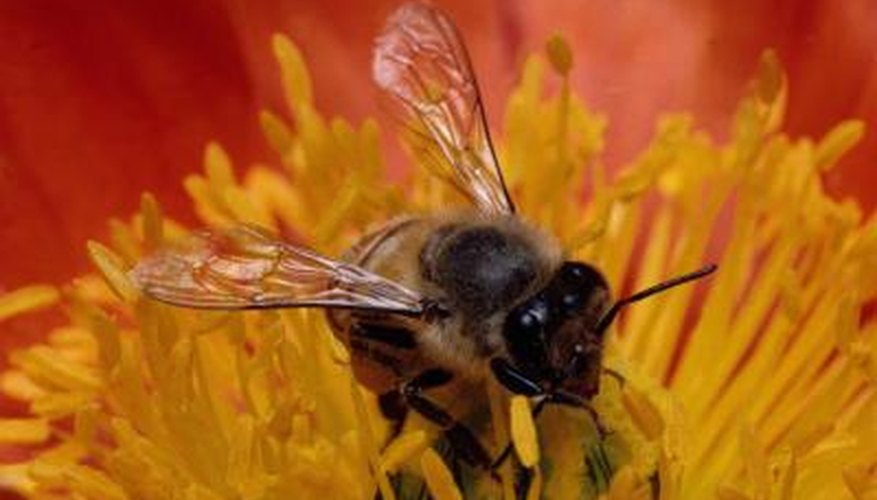 Flying pests such as bees, mosquitoes and flies can be a real nuisance. They may destroy your plants or sting or bite you. You can try to repel the insects, but this doesn't always work. Commercial products that kill insects can be expensive. Luckily, there are ways to kill winged bugs with household products for little money.
Bee and Wasp Bottle Traps
Step 1
Remove and discard the lid from a 20-ounce plastic soda bottle.
Step 2
Use soap and water to clean the inside of the bottle. This will keep you from getting your hands sticky while preparing the trap.
Step 3
Use a box cutter to carefully remove the top third of the bottle. Cut the bottle just below the neck, where it's widest.
Step 4
Turn the top third of the bottle upside down so that it looks like a funnel. Insert the top third into the bottom portion of the bottle. Fit it snugly.
Step 5
Tape the two parts together.
Step 6
Pour 1/2 cup of juice into the bottle through the inverted top.
Step 7
Place your bottle in the corner of your porch or any out-of-the-way location where you are having a bee problem.
Step 8
Remove the tape and empty the bottle as it becomes filled with drowned bees.
Step 9
Replace the lid and tape. Refill with more juice and set the trap again.
Insect Spray
Step 1
Mix 1/2 gallon of warm tap water and 1 lb. of powdered laundry detergent in a large plastic storage container until the detergent is completely dissolved.
Step 2
Mix in 1 gallon mineral oil. Stir.
Step 3
Pour 1 part detergent mixture and 20 parts water into a spray bottle.
Step 4
Spray your trees with the diluted detergent mixture in the early spring.
Fly Strips
Step 1
Put 1/4 cup of light corn syrup and 1/4 cup of sugar into a small bowl. Mix thoroughly with a spoon. Set aside.
Step 2
Cut a brown paper bag into strips that are 2 inches wide and 8 inches long.
Step 3
Punch a hole at the top of each strip. Tie a 1-foot length of string through the hole.
Step 4
Use the string to dip your strips into your sugar mixture and to hang the strips by. Place a bowl underneath the strips to catch any drips.
Step 5
Remove and discard the strips when they are covered in flies. Replace with new strips as necessary.