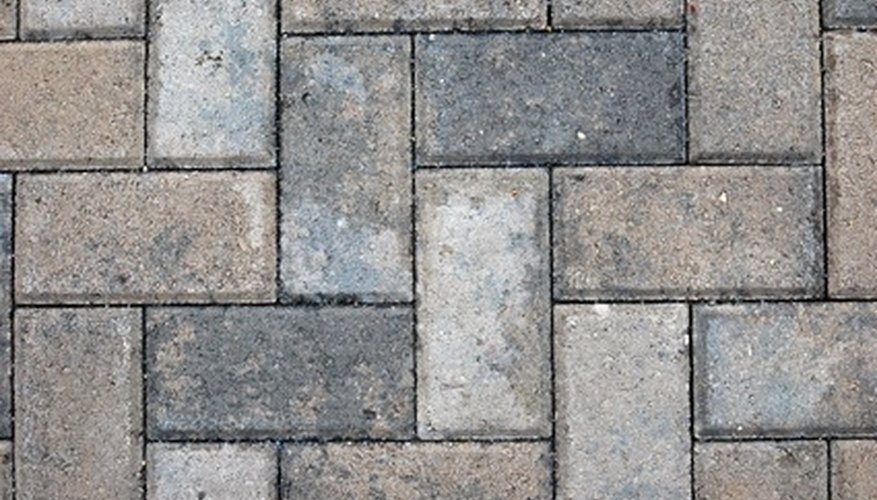 There are various ways to cut patio blocks, more accurately known as concrete pavers. The best method for your project depends on the number of pavers you need to cut, how many curved cuts there are and your comfort level with big power tools. For smaller projects, a standard circular saw with a masonry blade gets the job done with minimal expense. For large patios or long, curving walkways, you can save considerable time by renting a masonry wet saw ("tub saw") or even a gas-powered cutoff saw. These tools and circular saws are available at most rental centers, along with blades suitable for concrete pavers.
Prepare the saw for masonry cuts. For a circular saw, install a masonry blade. You can use a cheap fiber-type blade for a few cuts, but a diamond blade is worth the expense if you have numerous cuts to make. Protect the base of the saw from scratches by covering it with a piece of 1/8-inch hardboard secured with tape. For a tub saw, set up the saw and table, and connect the water supply as directed by the rental company or saw manufacturer.
Mark the patio block for cutting by holding the unit in the position it will be installed and drawing the cutting line with a pencil or chalk.
Make the cut with a slow, steady motion of the saw (or saw table, as applicable). With a circular saw, start with a 1/4-inch-deep scoring cut, then repeat the cut a few times with the saw blade set deeper for each pass. With a masonry saw, you should be able to make the cut in a single pass. If the paver is too thick for a single cut, first cut halfway through the paver from the top side, then flip the paver over and complete the cut from the back side.