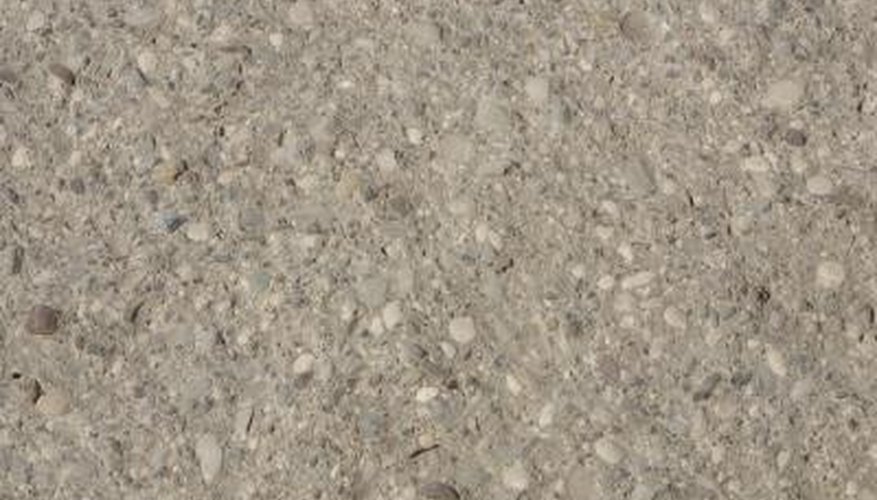 If you're looking for low-maintenance fencing, vinyl may be the best choice for your project. Because vinyl fencing is made with its color all the way through the vinyl, there is never a reason to paint the fence. Installing a vinyl fence generally requires attaching posts to cement footings. Occasionally it may be necessary to mount one end of the vinyl fence to a concrete structure, rather than sinking a post. In either case, this is easy to accomplish.
Attaching a Vinyl Fence Post to a Concrete Footing
Step 1
Dig a post hole that is a third the length of the post and at least 10 inches in diameter. Fill the bottom 6 inches of the hole with gravel. Insert a re-bar post in the center of the gravel so that it stands up vertically.
Step 2
Mix quick-set concrete and pour the concrete into the hole. Slide the vinyl fence post over the re-bar and wiggle it down through the wet concrete until it touches the gravel base. Use a level to make sure the post is plumb.
Step 3
Finish off the top edges of the concrete with a small hand trowel so that the concrete slopes away from the vinyl post.
Mounting a Vinyl Fence Post to Existing Concrete
Step 1
Assemble your fence so that your end fence post is flush against a concrete wall. When possible your vinyl post should be installed as described in Section 1. If you cannot dig a post hole due to an existing footer or sidewalk, you can cut and fit treated 2- by 4-inch board to fit inside the bottom of the vinyl post. Cut the board with a table saw.
Step 2
Screw a post base bracket to the footer using masonry screws and a power screwdriver. The sides of the bracket will fit the vinyl post. Use deck screws to screw through the bracket, the vinyl and into the treated 2- by 4-inch board you inserted earlier. This will attach your vinyl post to an existing concrete footer or sidewalk.
Step 3
Attach your post to the adjacent flush concrete wall by inserting a small metal flat bracket into the pre-cut slots that are used for the fence rails on an end post. Screw through the bracket, the vinyl and into the flush concrete wall. Make sure your post is level and shim as necessary.
Things You Will Need
Vinyl fence post

Post hole shovel

Gravel

Re-bar

Quick-set concrete

Small hand trowel

Level

Treated 2- by 4-inch board

Table saw

Post base bracket

Masonry screws

Power screwdriver

Deck screws

Flat metal bracket

Shims
Tip
By attaching the post to the concrete wall through the rail holes, you can then slide the rails into the holes and completely hide the installation materials. Always use exterior-grade brackets and screws.