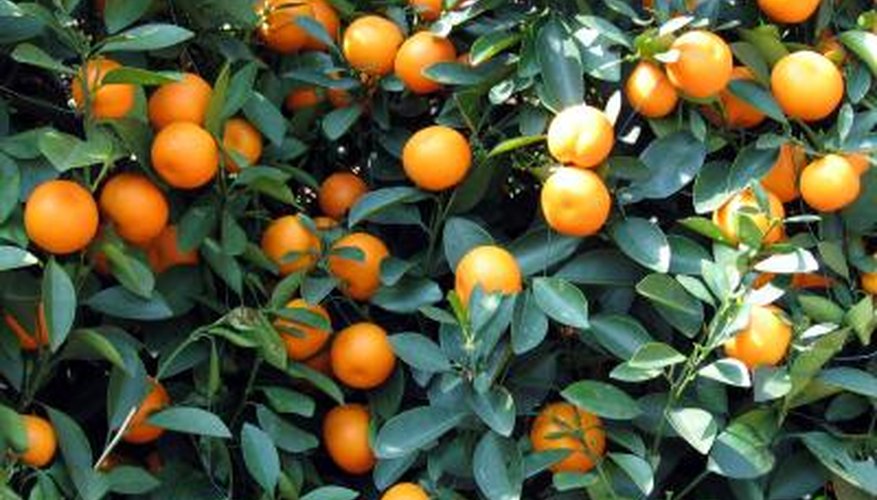 Brown spot fungal disease (Alternaria alternata) seems to appear from nowhere, revealing itself with full-blown symptoms. Once the fungal pathogens jump into action, you can't eradicate the disease, but you can fight to keep the fungus in check. Early diagnosis and prompt treatment work to stop brown spot fungus from spreading and damaging your plants and harvests. The best control is fighting back hard and preventing future repeats of the disease.
Examining the Evidence
Brown spot fungus resembles several closely related leaf spot and blight diseases common to many popular garden plants. Unless examined closely, symptoms may be confused. Brown spot fungus attacks leaves, soft young twigs and young fruit with brownish-black lesions of dying tissue. A yellow halo, caused by specific fungal pathogens, encircles the brown spots. Growing lesions gravitate toward leaf veins. Tell-tale yellow flows from halos through leaf veins into the plant's vascular system. Lesions appear within one to two days of infection, and quickly enlarge if untreated. Foliage drops and tender twigs wilt and die. Brown lesions mar the skin of young fruit.
Recognizing the Potential
Different strains of brown spot fungus target different types of plants. Citrus trees are especially susceptible, with tangerines (Citrus reticulata) and their hybrids, hardy in U.S. Department of Agriculture plant hardiness zones 8b through 11, among the worst hit. Grapefruits (Citrus x paradisi), hardy in USDA zones 9 through 11, are susceptible, as are potatoes (Solanum tuberosum) and closely related annual vegetable crops. In addition to pre-harvest effects on leaves and twigs, the brown spot fungus causes post-harvest black rot on citrus fruit and black holes on potatoes. The rot can show up months later.
Stopping the Spread
Fight the fungus with treatment paired with prevention. Fungicides control the disease; they can't cure it. The earlier you act, the better they work. Mix 0.05 to 2.0 fluid ounces of liquid copper concentrate with 1 gallon of water in a sprayer. Begin two weeks before you expect symptoms, or spray as soon as signs appear. Reserve the higher rate for rapidly spreading infections. Spray all leaf surfaces and stems thoroughly to protect healthy foliage. Repeat according to label directions for your target plant. For example, respray potatoes every seven to 10 days, but spray citrus every two weeks. Wear gloves, protective clothing and safety eyewear when you mix and spray.
Preventing a Repeat
Prevention is your best defense against brown spot fungus. The airborne pathogen moves on wind from old lesions to vulnerable tissues. Rainfall, high humidity or heavy dew paired with temperatures between 68 and 83 degrees Fahrenheit trigger the release of infectious spores. Prevent brown spot infections by planting disease-free plants of resistant cultivars. Never use overhead irrigation. Water the soil, without splashing, and water in mornings so foliage dries fast. Give plants good air circulation, and avoid overwatering and excess fertilization. Dispose of affected foliage, and clean the garden thoroughly at winter's end. The fungus overwinters on debris.