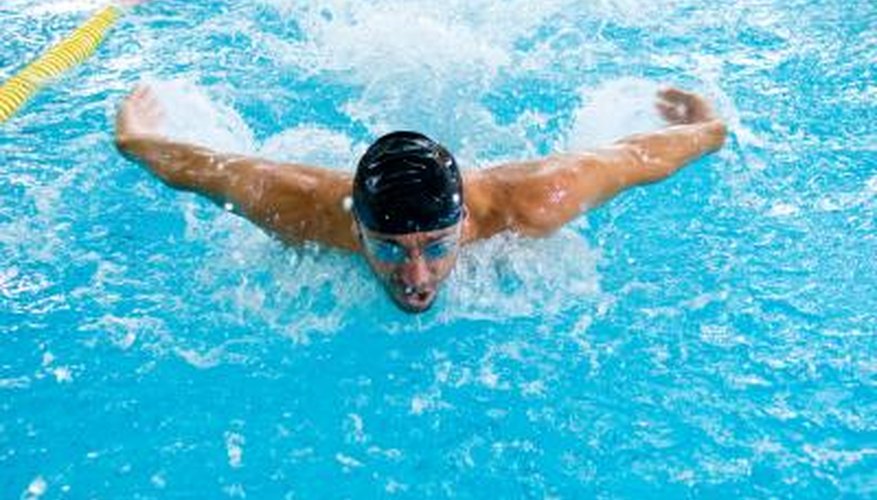 The purpose of a pool liner is to keep the water inside of the pool and prevent it from seeping into the ground. Although there are several types of pool liners for above-ground pools, the beaded liner is the easiest to install. There are two types of beaded liners. The traditional bead liner snaps into a track along the edge of the pool. The "V" bead liner overlaps the pool edge and is covered with tubing. Both types of beaded liners are easy to install, but the project requires more than one person to accomplish.
Step 1
Unpack the pool liner and open it up completely. Lay the liner in a flat, sunny location and allow it to sit for at least 30 minutes. This allows the wrinkles to fall out and warms up the liner.
Step 2
Use scissors to cut a piece of cardboard that is 2 inches longer and wider than the pool's skimmer opening.
Step 3
Place the cardboard over the skimmer opening. Secure it to the wall using duct tape placed around the edges.
Step 4
Place the vacuum hose into the return hole for the skimmer. The end of the hose should be no lower than 8 inches above the bottom of the pool floor. Place duct tape around the opening to secure the hose and create an airtight seal.
Step 5
Grasp one side of the liner while another person grasps the other side of the liner.
Step 6
Move the liner over the pool and gently allow it to drop to the bottom.
Step 7
Insert the beaded edge of the pool liner into the track located along the top of the pool wall. There is an audible click when each bead is properly inserted. If the liner is a "V" bead liner, place it over the edge of the pool wall and install the connector tube on top of it by pressing down.
Step 8
Turn on the vacuum to begin sucking out the excess air from under the liner.
Step 9
Use a push broom to press against the bottom corners of the pool to remove wrinkles. Center the seams on the pool liner with the bottom edges of the pool.
Step 10
Turn off the vacuum and remove the duct tape and cardboard.
Step 11
Use a garden hose to fill the pool with water until it reaches 2 feet above the pool bottom.
Step 12
Attach the skimmer and skimmer gasket to the pool wall as instructed by the pool manufacturer. This is usually done by using a screwdriver to insert screws through each gasket.
Step 13
Use a knife to cut out the pool liner from inside both the skimmer and skimmer return openings.
Step 14
Continue filling the pool with water until it reaches the level recommended by the pool manufacturer.