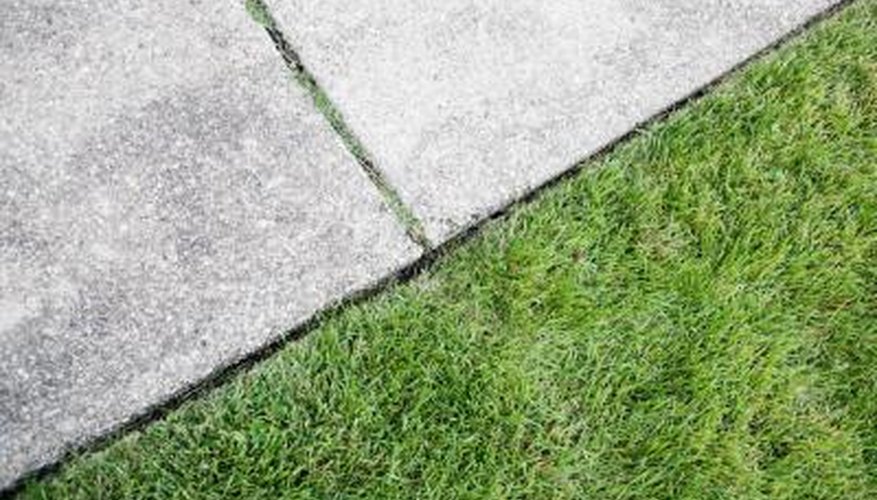 Repairing a sunken sidewalk takes some tools, a cement mixer, a portable pump and a little construction know-how. The impediment is easy to stumble over, as portions of the pavement are noticeably caved in. The correction process is called "slabjacking" and can be completed in as little as two hours. Repairing your sunken cement slabs will be less expensive than replacing the sidewalk. You may want to hire a contractor to help you with the process.
Step 1
Drill strategically placed holes through the sidewalk slab. A drilling hole pattern should have several holes that are each about 1 5/8 inch across. Pummel them right through the area of the sidewalk that is angled and sunken into the ground. Be careful to drill in the right areas and to leave the other level part of the pavement alone. Many holes will be required for this step; one hole, especially, will not be enough.
Step 2
Inject a liquid concrete repair mixture of stable materials through the holes. This conglomerate could contain gravel, ash and water. Mix it in a bucket according to the directions on the bag. Inject this mixture right into the holes of the slab. This grout mixture should be pumped with specialized equipment like a portable pump and/or flexible hoses. Polymer resins are also available, although they are more expensive.
Step 3
Fill the hollow portion under the cracked slab until the grout becomes pressurized enough to begin raising the caved-in slab back to a level position. You will be hydraulically raising the slab until you will notice it rising upwards. Lifting the slab back to its former state may take a few hours. You will need to do this carefully; you may want someone to help you with this step.
Step 4
Plug up the holes once the slab is raised back to its ideal level. You can patch up these small holes by pouring in your preference of concrete patching compound. Once the holes are firmly plugged up, the slab should be seated correctly in place. Smooth out your patch-up job by using a trowel, and let it all dry for the next six hours.