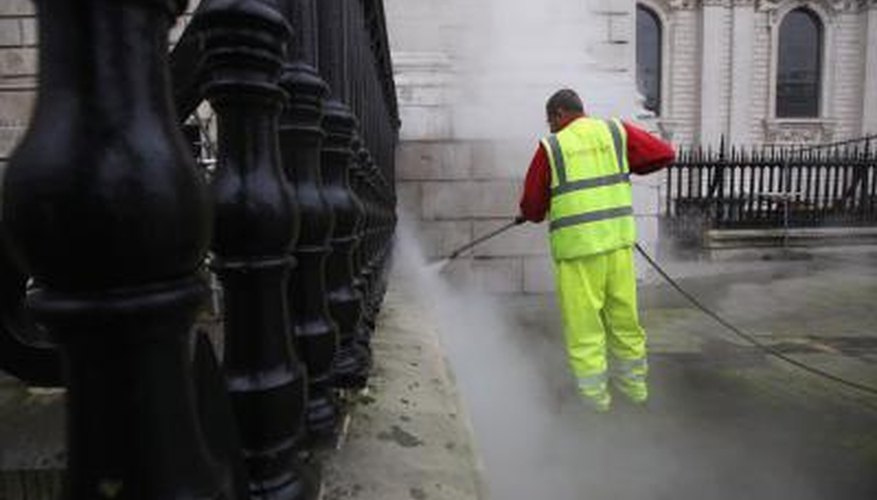 Stamped concrete is concrete stamped with an impression or design when the concrete was freshly poured and still wet. Most concrete is very bland and visually uninteresting. Architects, home builders and landscape contractors often stamp, apply color and seal the concrete to add curb appeal, texture and durability to the concrete surface. Over time, exposure to foot traffic and weather can break down the sealant, which you may need to replace. Following simple instructions, it's quite easy to reseal the concrete and restore the surface.
Step 1
Evaluate the area you need to seal. Do you have just a few spots where the sealer is coming off, or does the entire project (driveway, sidewalk, patio or retaining wall) need resealing?
Step 2
Sweep the concrete to remove loose dust and soil. Clean the concrete to remove grime, grease or oil stains. Use a biodegradable soap formulated to remove grease. (Scrub lightly with a soft brush or push broom.) Use a garden hose with a pressure nozzle on a low setting to rinse the concrete. Allow it to dry for 24 to 48 hours.
Step 3
Purchase sealer and color agents from a concrete contractor or building supply store. Many manufacturers of acrylic coatings or sealers recommend resealing with the product that was applied originally. This eliminates concerns of weakened bond strength or incompatibility between the new and old sealer. If it's not possible to match the sealer originally used, consult a concrete professional for advice in choosing a compatible product. Always read and follow the manufacturer's application instructions.
Step 4
Repair concrete if required. Premixed concrete patching material is available from building supply outlets or concrete contractors. Apply with a concrete trowel to fill in holes or chips. Restamp, if required, after applying concrete release powder according to the package's instructions. (In small areas, use the tip of the trowel to carve the concrete to match the adjoining stamped concrete.) Wear protective gloves, goggles and a dust mask.
Step 5
Add colored concrete hardeners following the labels' instructions. Allow it to dry for 24 hours. Add additional color agents if required. You can remove excess color with a gentle spray of water, or wipe with a wet rag. Allow it to dry for 24 hours prior to applying sealer.
Step 6
Apply a high-quality sealer following the manufacturer's package instructions. Apply two or more coats to any concrete that's exposed to heavy traffic or exposed to freezing and thawing.