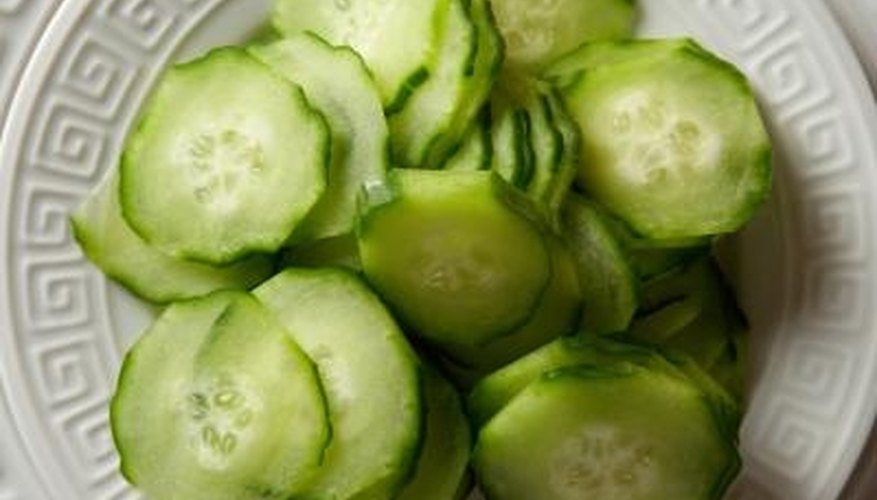 Cucumbers (Cucumis sativus) belong to the family of gourds (Cucurbitaceae). They are indigenous plants to Asia and Africa. Cucumbers are grown all over the United States, but have been grown in India for approximately 3,000 years. Cucumbers are considered one of the easier to grow vegetables. However, they require both sunlight and warmth to thrive.
Planting Cucumbers
Purchase some cucumber seeds according to what you intend to use them for. Cucumber varieties are divided into pickling, slicing, burpless and space-saver variety categories.
Decide if you want to give your cucumbers a head start by germinating them indoors (in peat pots, planting cells or pots) or waiting until there is absolutely no chance of frost left, and planting them right out into your vegetable garden.
Choose where in your garden is best suited for growing cucumbers. Cucumbers require full sun and plenty of warmth to grow. They also require soil that is quick draining; cucumbers do not tolerate having soggy roots.
To plant directly in the ground, prepare the area you want to plant your cucumber seeds. Turn the area over with a shovel and work in fertilizer at approximately one pound per 100 square feet. Use your rake to level and smooth the area.
With your trowel, dig 1-inch deep holes that are six to eight inches apart. Each row should be spaced at approximately three feet apart. Place two to three seeds in each hole and cover the hole up firmly with dirt. Now is a good time to use garden stakes so that you know exactly where you planted your seeds.
Check the seeds every day, keep the seeds moist, not drenched. Once your cucumber seedlings get to be approximately three to four inches tall, thin them out so that only one plant remains in each planted area.
Continue to keep your cucumbers well watered. The National Gardening Association recommends keeping the soil evenly moist to prevent cucumbers from becoming bitter.
The National Gardening Association also suggests that when your cucumbers reach about four weeks of age, to fertilize them with a 5-10-10 fertilizer (5% nitrogen, 10% phosphorus and 10% potassium).
In approximately 55 to 65 days, your cucumbers should be ready for harvesting.
Planting in Pots
Fill up each peat pot, or planting cells, three-quarters full with seed starting mix. Water each thoroughly, making sure you have a tray underneath to catch the excess water.
Place two to three seeds into each planting receptacle, cover with one inch of the seed starting mix. It's imperative to maintain an adequate amount of light for your cucumber seeds to germinate. They should receive 12 to 14 hours of sunshine a day. Temperature should be kept above 55 degree F.
Check the seeds daily, keep them moist by spritzing with water as soon as the soil dries out. After the seeds have sprouted, it's recommended you thin them down to only one cucumber seedling per planting receptacle. When seedlings achieve about three inches in height, you can plant them out of doors right into your vegetable garden.
Transplanting Outdoors
With your trowel, dig holes that are double the size of each of your planting receptacles.
You do not need to remove the seedlings from the peat pots. To remove your cucumbers from pots, support the base of the plant with two fingers, turn upside down and gently tap the edge of the pot with your trowel until the pot begin to slide off. To remove from cells, simply push up from the bottom. Put the cells/pots aside.
Position your cucumber plant in a hole, make sure to line up the base of the plant level with the ground. While holding the cucumber in the hole, use your trowel and fill in the hole with plenty of dirt. Firm the soil with your hand, to remove air pockets.
Water each of your cucumber seedlings carefully, don't saturate them, but water at the base of the plant and let the water soak in thoroughly. (Proceed from Step 7 above, in the section titled Planting Cucumbers in the Ground).