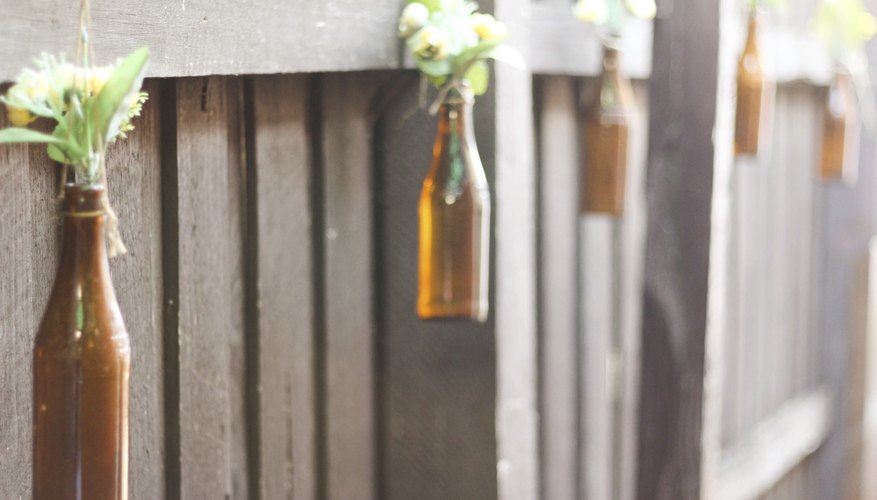 A backyard fence can serve a variety of purposes, providing privacy and keeping pets corralled. But just because a fence is utilitarian doesn't mean it has to be boring. Different types of wall art kick up the blank space to make it more interesting and attractive. Think of it as a blank wall you turn into display space, and take advantage of found objects, architectural items, stencils and paint to beautify your fence.
Express Yourself
If any part of your fence is protected from the elements, paint that area of the fence with chalkboard paint to provide a space for your family and friends to try out their artistic skills, leave messages and post memos. Covering one section of wood fence with paint offers a neatly defined blackboard space where children can use a rainbow of chalk colors to draw a mural, create graffiti or express themselves by illustrating a short story or poem. Adults can use the space to write out the courses of a menu to be served at an outdoor dinner or remind themselves of yardwork and chores to complete. Colorful hues, accompanying illustrations and a variety of writing styles add artistic style.
Think Outside the Fence
Repurpose household items and flea market finds into wall art to beautify your backyard fence. For example, lumber left over from building the fence can be put to work to create raised planters for succulent or herb gardens. Mount containers such as wooden boxes, galvanized buckets and old gutters to the planters to turn your fence into a living work of art. Hang vintage wooden kitchen chairs on the fence. Display items such as rusted barn stars, wreaths and plants in pots boasting colorful designs. Birdhouses in a variety of designs and colors affixed to the fence are both attractive and useful. All these items can be nailed to wooden fences or wired to chain-link or wrought-iron fences.
Architectural Details
Architectural items salvaged from old buildings find new life as wall art both inside and out. Create display shelves when you attach wooden planks to punched-metal ceiling tiles and nail them to wooden fences or wire them to chain-link or wrought-iron fencing. Create a grouping of cast-off leaded glass windows in different colors; don't worry if they are cracked or missing glass as these features add character. Creating a curio cabinet display space is easy when you hang a French door on the fence and display items in each windowpane. For a natural vibe, choose items such as feathers, grasses and flowers.
Artistic Applications
Use exterior paint to create a personalized piece of art: Paint portraits, landscapes, murals, caricatures, or abstracts. If freehand painting isn't for you, stencils add interest to your fence. Use spray paint to transfer stencil designs to the fence or attach an old door to the fence as a backdrop for stenciled patterns or sayings. Create a family photo gallery when you display framed pictures of your family engaged in various activities that reflect your interests. Add a touch of the unexpected by using mismatched frames. You may want to laminate the photos to protect them from the weather. Affix vintage shutters in a variety of colors and sizes to the fence. Choose those that are weathered and sporting peeling paint for a rustic look.