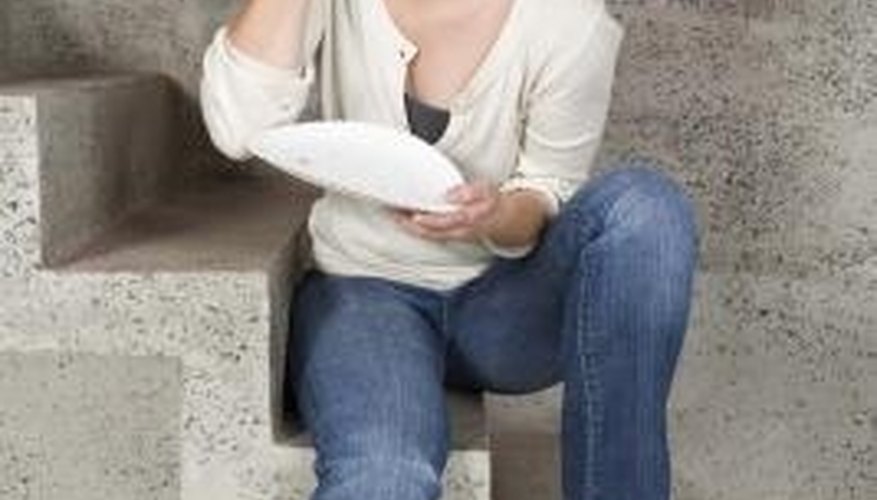 The buildup of dirt and grime on concrete steps can happen so slowly that it's barely noticeable until you take the time to clean the steps. After cleaning, though, they'll look like new. To keep the steps looking this way, a sealer should be applied. The sealer reduces the porosity of the concrete, which keeps dirt and stains from being absorbed into the concrete. With the dirt resting on top of the concrete, the steps can easily be cleaned with a light washing from a garden hose.
Sweep the steps to remove loose debris from the surface.
Clean the concrete steps with the power washer. Keep the nozzle of the pressure washer 12 inches or more away from the surface of the concrete. If the nozzle is placed too close to the concrete surface, the smooth layer of concrete will become damaged. Begin by pressure washing the top step, then work your way to the bottom step.
Mix a solution of water and cleaning solution in the bucket. Follow the manufacturer's recommendations for the concentration of cleaner to water. Carefully read the safety precautions on the cleaning label, too. Chemical concrete cleaners contain harsh chemicals that can damage your skin and eyes. Use the stiff brush to scrub the concrete steps with the cleaning solution, working your way from the top step down.
Remove the cleaning solution from the steps by rinsing them with the pressure washer. Allow the concrete steps to thoroughly dry. Rewash any stains that remain on the concrete. The steps should then be allowed to dry completely before you apply the concrete sealer.
Add concrete sealer to the fill line of the pump sprayer. Fasten the spray lid. Pressurize the sprayer by pumping the handle. Apply an even coat of sealer to the concrete steps. Allow the sealer to dry. Tinted sealers need to be evened out with a brush to obtain a proper finish.
Wet the concrete steps after the sealer has dried. The water should bead and run off the concrete steps. If you find an area where the water absorbs into the concrete, let the area dry and reapply another coat of concrete sealer to the steps. Retest the steps to ensure that the entire concrete surface is sealed.