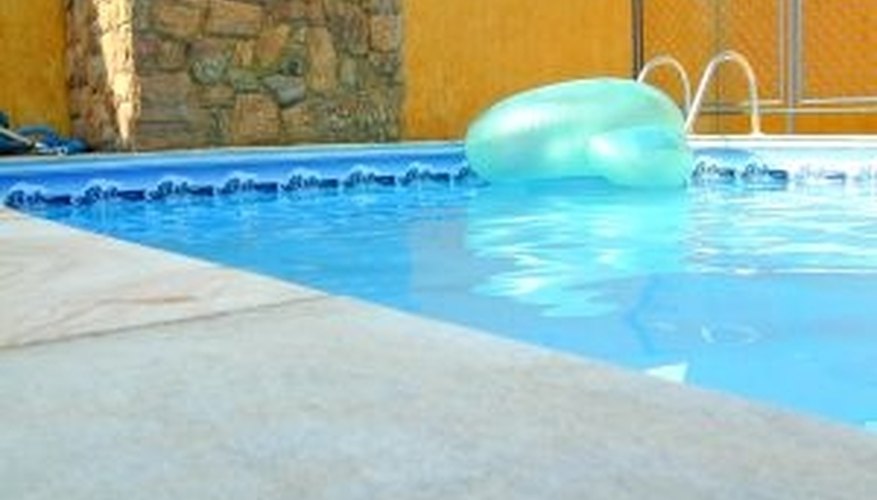 A diatomaceous earth (DE) pool filter cleans chlorinated pool water by passing the water through substrate filled with diatomaceous earth. The material filters out physical contaminants effectively. However, some DE pool filters may occasionally malfunction. You can troubleshoot DE filters to resolve these problems and get your filter back to cleaning your swimming pool water.
Step 1
Check that your DE pool filter is powered on and connected to a reliable power source. Sometimes, a tripped circuit or power outage may inadvertently shutoff the filter.
Step 2
Inspect the intakes for the pool filter, found along the edge of the swimming pool. These may have become clogged with large debris, such as leaves or pool toys. Not only does a lack of water through the filter mean the filter cannot do its job, but running a DE filter without water for a prolonged period may damage the internal pump mechanisms.
Step 3
Clean the DE pool filter. This may resolve issues with water backup and poor water quality in the outlet pipes. Turn off the pool filter and release the pressure valve to drain and relieve all internal pressure. Open the top of the pool filter and slide out the internal grid filter, which is typically shaped like a hexagon or tube. Lay the filter on its side and spray it down with a water hose to flush out physical debris and contaminants. If your filter utilizes removable grid panels, slide out each panel and rinse down individually. Do not use chemical cleaners on the filter, as this may damage it.
Step 4
Check the tubes and pipe joints of the DE pump. Some rubber hoses or rubber sealing rings at the joints may become cracked and start leaking. This is largely due to elemental factors such as sunshine and chlorine. Inspect such rubber parts annually, and replace as needed. Consult your individual DE filter's manufacturer's manual for the appropriate part numbers and sizing.
Step 5
Verify that the air relief strainer, found in the outlet pipes of the filter, is in place and not broken. A broken or missing strainer is the most common cause of finding leaked DE material in the actual swimming pool.