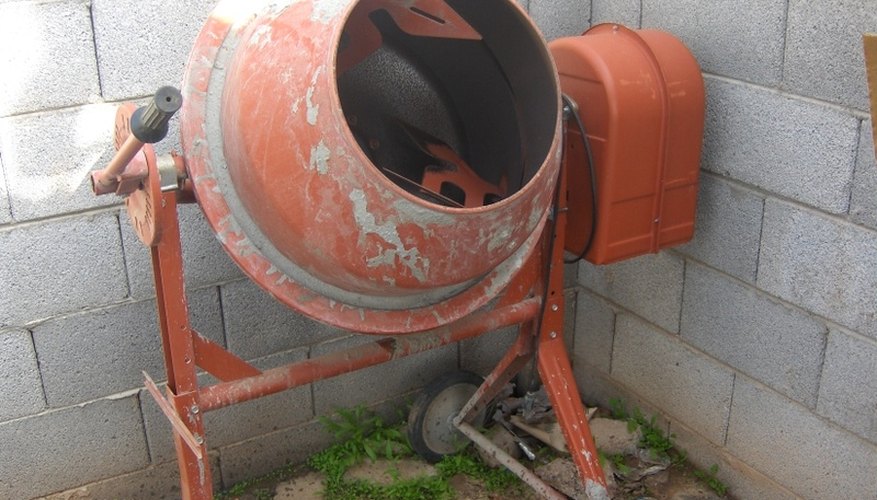 Using a cement mixer usually entails a project that is labor intensive. The last thing you want facing you at the end of the day is the impossible task of cleaning the mixer. Cementing is a dirty job that is far from glamorous. There is a pain free method of getting rid of built up cement involving no chemicals in the drum. Try this quick cleanup trick using a little gravel and water.
Cleaning the Mixer
Shovel two scoops of gravel into the cement mixer. Fill the drum with approximately 3 gallons of water using a garden hose.
Turn on the cement mixer and rotate the gravel and water mixture for roughly 10 to 12 minutes. Adjust the angle of the drum so that the rock and water tumble up to the edge, ensuring a completely clean drum.
Empty the mixture into a wheelbarrow and dispose of in an out-of-the-way spot. Use clean gravel any time this method is used. Spray the empty mixer with water from the hose and allow it to air dry before transporting or storing it.
Use a grease product such as Crete-lease on the outside of the mixer to prevent cement buildup on the surface. Check with the owner of the cement mixer before applying this product if it is rented or borrowed. Some owners use their own products.
Coat the inside of the drum lightly with diesel fuel before mixing cement. Although, it is true that the cement will not stick to the drum, diesel fuel breaks down the composition of cement and ruins it. Use diesel fuel sparingly.