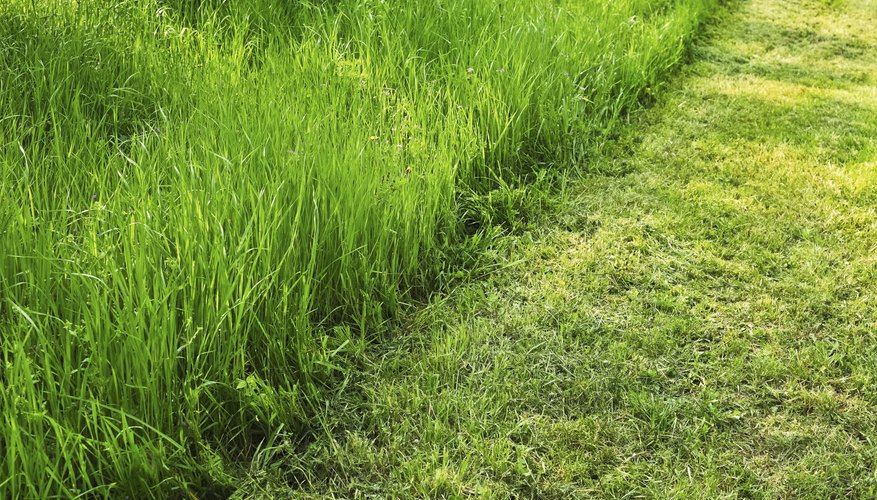 A top-dressing of rich soil amendments rejuvenates your lawn. The top-dressing builds up the healthy topsoil layer so your soil maintains moisture better while providing some nutrients. If you lawn is bumpy or has dips or holes, annual top-dressing can level it out. Top-dressing properly ensures your lawn gets the most benefit from the practice without any danger of damage or smothering the grass.
Getting Ready
Dethatching and aerating prepare your lawn and the soil beneath for top-dressing. Thatch, the layer of dead and decaying organic matter on top the soil, blocks water and nutrients if it builds up to more than 1/2 inch thick. Removing the excess thatch with a dethatching rake or a motorized dethatcher every two years is usually enough for most lawns. Aeration is also necessary before top dressing in some lawns, especially if you have clay soil. If the soil has become hard and is absorbing water poorly, aeration will open up the soil and allow moisture and the top-dressing to work down to the grass' roots. Aerate most lawns every three years with a core aerator, which pulls up small plugs of soil and loosens the ground.
The Right Amount
A healthy lawn needs a topsoil layer of at least 4 to 6 inches, but annual top-dressing is needed to maintain and rejuvenate this level of topsoil. You can top-dress at any time from spring through fall, but late summer or early fall is the best time if you plant to overseed the lawn, too. A mixture of equal parts compost and loam works well for an annual top-dressing. Use about 2 cubic yards of compost per 5,000 square feet of lawn, which is sufficient to apply a 1/2-inch-thick layer of top dressing.
Laying It Down
Mechanical top-dressing spreaders are available, but you can also use a simple bow rake to get the job done. Begin by spreading the compost mixture as evenly as possible over the entire lawn. Turn the rake over so the tines are facing up and the back of the rake is resting on top the grass. Push the rake over the lawn away from you, and then pull it forward again in one motion, working in a straight line. This levels out the compost and works it below the top of the grass so it falls onto the soil. Avoid pushing down too hard, or you may gouge or damage the lawn. Repeat this motion over the entire lawn. The finished depth of the topsoil should be near 1/2 inch, although it may be slightly deeper in uneven areas where the compost levels and fills any holes.
Making It Lush
If you want to overseed your lawn or seed bare patches, it's best to do it just before top-dressing. Schedule time in late summer or early fall to overseed, after the heat of summer has passed. The amount of seed depends on the type of grass. Use one-half the new lawn recommendation on the seed bag. For example, Kentucky bluegrass (Poa protensis), which grows in U.S. Department of Agriculture plant hardiness zones 3 through 7, requires 6 to 8 pounds of seed per 1,000 square feet for a new lawn, but only 3 to 4 pounds for overseeding. Spread the seed evenly with a drop spreader after dethatching and aerating, but before top-dressing.