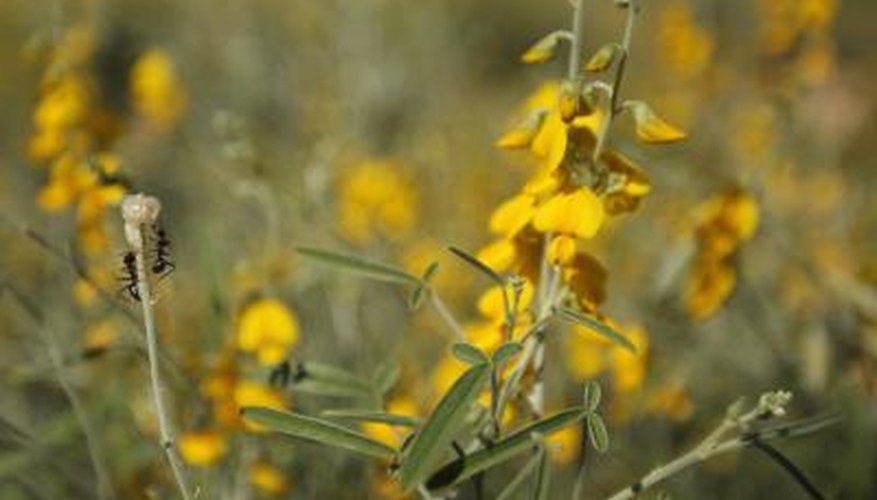 It would be impossible and undesirable to get rid of all the ants nesting in your yard. Ants help aerate the soil and decompose materials. You can, however, keep them out of your home and away from certain areas by following a few simple steps. First, you need to make your home and yard undesirable to ants. Then you can get rid of any ants that are causing you a problem with boric acid or a borax solution. Boric acid and borax contain borate or boron, a natural mineral.
Getting Rid of Ants
Step 1
Clean your home thoroughly. Eliminating any food sources that might attract ants is the best way to keep ants out. Move appliances to clean underneath. Vacuum furniture and carpets. Sweep the floors. Wipe down cabinets and counter tops.
Step 2
Place any open food in plastic bags or in your refrigerator.
Step 3
Set plants and pet dishes in shallow aluminum pans filled with water and dish washing liquid. The pans of water create an ant-proof barrier to prevent ants from accessing them. Plants can serve as both a nesting place and a source of food for ants. The dish washing liquid prevents ants from drinking or floating on the water. This can also be done with patio tables or chairs to discourage ants.
Step 4
Seal up any cracks around doors, baseboards and windows with caulk or weather stripping. Most ants that come inside a home are nesting outdoors. Also seal around pipes and wires that ants may use.
Step 5
Fix any leaking faucets or pipes. Ants will otherwise use them as a source of water.
Step 6
Move any wood or mulch so it is at least 12 inches away from your home's foundation. Get rid of any decorative wood that may become a home for carpenter ants.
Step 7
Trim trees and shrubs so they are not touching your home or any wires leading to your home. Remove climbing vines on the outside of your home.
Step 8
Place garbage in sealed containers and empty them daily .
Step 9
Avoid home remedies that recommend placing a line of flour, chalk, coffee grounds, baby powder or similar substance as a barrier to ants. They temporarily disrupt ant paths but do not keep ants away for long. Similarly, never pour cornmeal, grits, oatmeal or a similar food on or around ant colonies to get rid of them. Some people believe that this kills ants by causing them to explode or dehydrate. It doesn't. All you are doing is feeding the ants.
Step 10
Pour 1 to 2 gallons of boiling water on ant nests found outside. Boiling water will only work on small ant nests.
Ant Bait
Step 1
Make your own ant bait stations with food and borax or boric acid. The mixture should be about 5 percent poison or 2-1/2 teaspoons of borax/boric acid per cup of food.
Step 2
Experiment with sweet foods, like mint-apple jelly, corn syrup, sugar and honey, along with high-protein, greasy foods, such as peanut butter and bacon grease. Some recipes for ant bait include: 4 tablespoons peanut butter, 6 tablespoons honey and 3/4-teaspoon boric acid; 1 teaspoon of boric acid powder to 1/2-cup mint-apple jelly; and 3 tablespoons sugar, 1 cup water and 1 teaspoon boric acid.
Step 3
Use a liquid bait formula if solid baits don't seem to work. To make this, dissolve 1-1/2 teaspoons of boric acid into 1/4-cup hot water. Mix with 1 cup of corn syrup.
Step 4
Place bait inside a small jar with holes punched in the lid to keep it away from pets, children and animals. Place the jars around the yard or home where ants have been spotted.
Step 5
Replace the bait if it dries out or gets eaten. Bait should remain out for at least four weeks to kill the entire nest.