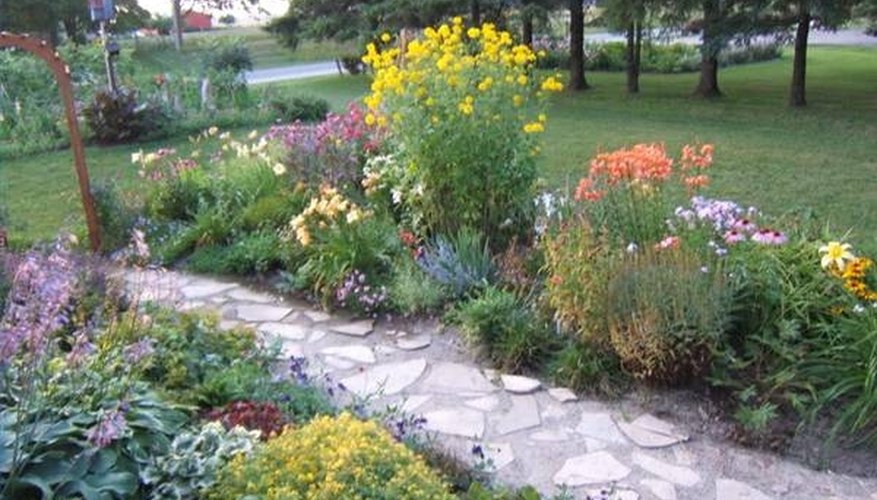 Cobblestone walkways and patios can add beauty and value to your home. The old fashioned charm and style enhance any garden or backyard. Making concrete cobblestones is relatively inexpensive and well worth the time and trouble. Molds come in numerous shapes and can be purchased at any home improvement center. Show off your creative side with this painless outdoor project.
Preparing to Make the Cobblestones
Decide where to place a cobblestone walkway or patio. Hammer wood marker stakes into the ground at each corner. Use wooden stakes to define any curvature incorporated into the design.
Remove the sod in the area that will be surfaced with the concrete cobblestone in a layer of one to one and a half inches deep. Save the more attractive pieces of sod to use as fill around the completed project.
Mix the concrete in a large tub or wheel barrow and add the concrete coloring of your choice. Follow the instructions included with the cobblestone molds to calculate exactly how much concrete you will need for the given area.
Molding the Cobblestone
Spray the mold down with water before adding concrete. Lay the desired mold down on the corner of the area needing cobblestones.
Fill all open spaces of the mold with concrete using a trowel or a small gardening shovel. Pack concrete to the top of the mold and use the trowel to even the surface.
Wait five minutes and lift the mold. Rinse cobblestone mold with water using a garden hose and place it down into position to continue with walkway or patio. Turn the mold a quarter of a turn each time and it will produce a varied, natural stone appearance.
Rotate the mold to accommodate any curves desired. Align the side of the mold that will be to the outside evenly with the previous section and follow the curve around. The portion of the mold that makes up the inside of the curve will have to cut down into part of the section already molded. Fill the mold completely with concrete and let it sit for five minutes. Remove the mold and blend the combined sections to look like one continuous path of cobblestone. Continue moving the mold and filling with concrete until the entire area is completed.
Finishing the Cobblestone Project
Place a light coating of sand on the surface of the concrete after its set. Use a broom to push sand into the joints between the concrete sections.
Spray the surface of the concrete cobblestones lightly with water.
Drape a thin plastic material over the concrete for two to four days. This will prevent surface cracking caused when drying too fast. Allow the concrete cobblestones a month to cure and then spray them with a quality concrete sealant.