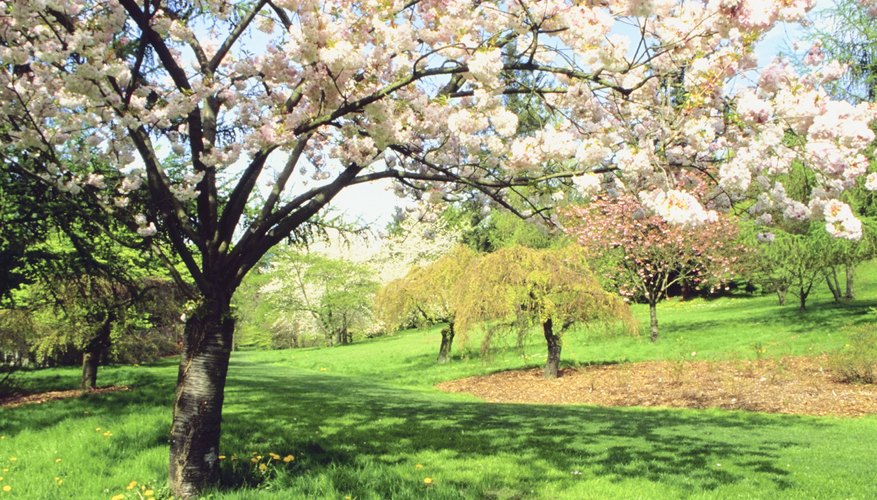 If you adore your beautiful trees and love the shade that they offer and the fruits that they produce, keep them at their healthiest by periodically fertilizing them. All plants, trees included, need to feed. Generally, most trees have deep enough root systems so that they are self sufficient. However, fruit tress and younger trees can benefit greatly by being fertilized. Keep your trees at their best and fertilize them.
Fertilize trees is in the early spring because that is when they are just beginning to grow following a dormant period. If you miss spring, do not fertilize in the summer, wait until fall after the leaves are gone, but before the ground freezes.
Older, established trees only need to be fertilized every other year as rule, unless there is a problem such as damage to the leaves by an infestation of insects over the summer. In that case fertilize it in the fall to help it recover from the insects. If the tree is deciduous (looses its leaves) and the diameter of the trunk is more than 6 inches and approximately 4 feet high, it will take between 3 and 5 pounds of granulated fertilizer per inch of diameter. Evergreen trees will only need about half that amount of fertilizer.
If you are using a high nitrogen fertilizer such as 10-6-4, mix it with peat or humus before you spread it so that it will be evenly distributed. You should make small holes about 1 foot deep in ever widening circle around the tree starting at about 3 feet from the trunk with the next circle 2 feet out from that one. The holes should be about 2 feet apart. Fill the holes with fertilizer.
If you use liquid fertilizer, be sure to follow the manufacturer's directions to mix it and then apply it the same as in step three. If you use solid spikes they will need to be inserted into the ground at the intervals that are specified on the label. Spikes are a great source for nutrition that will last several months.