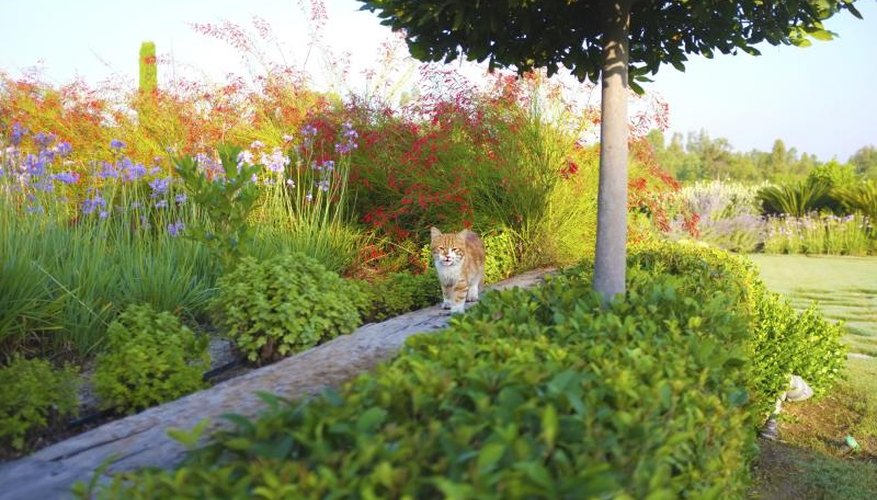 Landscaping the bare soil beneath a tree may provide a visual improvement but can cost the tree its life if done incorrectly. Some trees, including maples (Acer spp.), which are hardy in U.S. Department of Agriculture plant hardiness zones 3 through 9, depending on the variety, produce dense mats of surface roots that don't compete well with plants. Some other trees, such as northern California black walnut (Juglans hindsii), hardy in USDA zones 7 through 9, make the soil toxic for other plants. You can still landscape attractively beneath these trees without adding greenery.
Starting with the Soil
Tree roots grow mainly in the top 12 to 18 inches of soil. So planting and incorporating soil amendments is done best by hand. Grass isn't a good choice under most trees because it robs tree roots of moisture and nutrients, and mowing over roots or near tree trunks can damage them. If you want greenery beneath your tree, begin by preparing the soil. Cover all existing grass with two sheets of wet newspaper to smother it. The newspaper can be removed or allowed to break down naturally in place after the grass dies. If you want to add plants after killing the grass, then work a 2-inch-thick layer of compost into the top 3 to 6 inches of soil carefully by hand, taking care not to damage or cut through any surface tree roots.
Covering it Up
Wood chips or pine straw mulch provides a simple landscaping solution that also benefits tree health. The mulch represses weeds and conserves soil moisture while providing a buffer zone between a lawnmower and other damaging equipment. Mulch can be used alone or with ornamental plants. In order to apply mulch properly around your tree, find the tree's drip line, which is the soil beneath the outermost edge of the tree's canopy. Lay a 2-inch-thick layer of mulch on top the soil from the drip line to 4 to 6 inches from the tree's trunk, but don't pile mulch against the trunk. Brick or stone edging around the drip line will contain the mulch and add a decorative element. Mulch needs to be replenished as it breaks down to maintain its 2-inch-thick layer. Raking it between new applications helps freshen its appearance.
Choosing Plants
A bit of greenery or some colorful flowers can brighten the shady area beneath a tree, but select plants that can grow well in the shade and with tree root competition. Perennial plants are a better choice than annuals because annual flowering plants require yearly replanting, which increases the chances of tree root damage. Shade-tolerant plants such as hostas (Hosta spp.), hardy in USDA zones 3 through 9, depending on the variety, or Chinese astilbe (Astilbe chinensis), which is perennial in USDA zones 4 through 8, produce ornamental foliage and flowers.
Beginning Small
Compared to starting with full-grown plants, small nursery plants require smaller planting holes, resulting in less tree root disturbance. As the new plants mature and send out larger roots systems, they will work around the tree's roots without damaging them. Dig planting holes carefully by hand, starting near the tree's drip line. If you encounter a root, then select a new location to plant. Plant only two or three new plants each year to prevent stress to the tree. They should be spaced appropriately for their variety and for their mature widths. Soil conditions beneath a tree are usually dry because the canopy prevents rainwater from reaching the ground. So the plants may need more frequent watering than they would in a different location.