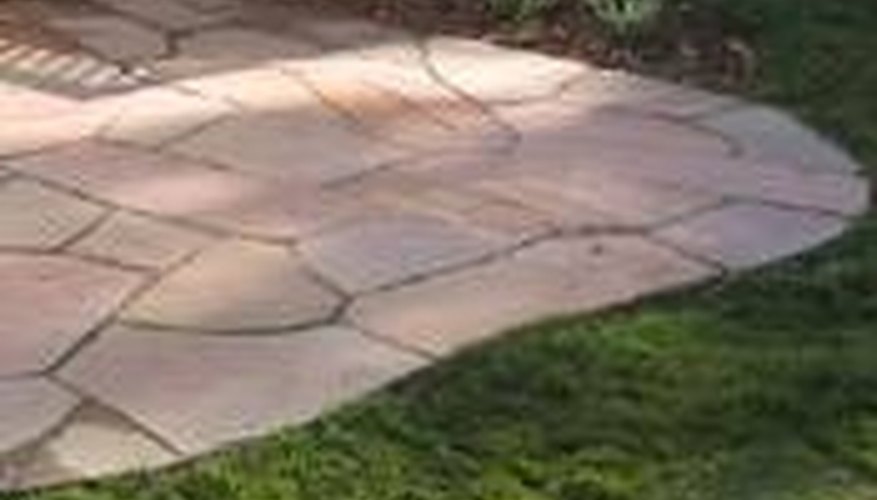 This method for installing flagstones outdoors is done on a sand base. The first stage can be completed by a novice do-it-yourselfer in an afternoon. The second stage, after the flagstones have set, requires skill with mortar and trowel. If you live in an area prone to frost heaves or other movements of the earth, install flagstones on a 4-inch-thick concrete slab reinforced with rebar, then use a mortar mix to adhere the flagstones to the concrete base.
Excavate the area where you will lay the flagstones. The excavation needs to be at a depth of 3 inches for the sand base plus the depth of the flagstones. Tamp the bottom of the excavation flat.
Prepare the sand for the base. Mix one part Portland cement to three parts of builder's sand.
Water the bottom of the excavation until the soil is very wet.
Pour the sand into the excavation to a depth of 3 inches, then level the sand with a rake or by dragging a board across it.
Place the flagstones on the sand and use your hand or a mallet to tamp them into place.
Set a nozzle on a garden hose to a fine mist. Spray the mist over the flagstones for about 10 minutes so that the water washes into the cracks around the stones.
Let the flagstones sit for at least a week before walking on them. Fill the gaps with mortar made from Portland cement, sand and water mixed to a warm-peanut-butter texture. Wipe up spills and use a tuck pointing trowel to smooth the mortar between the flagstones.
Cure the mortar for several days before using the flagstones.