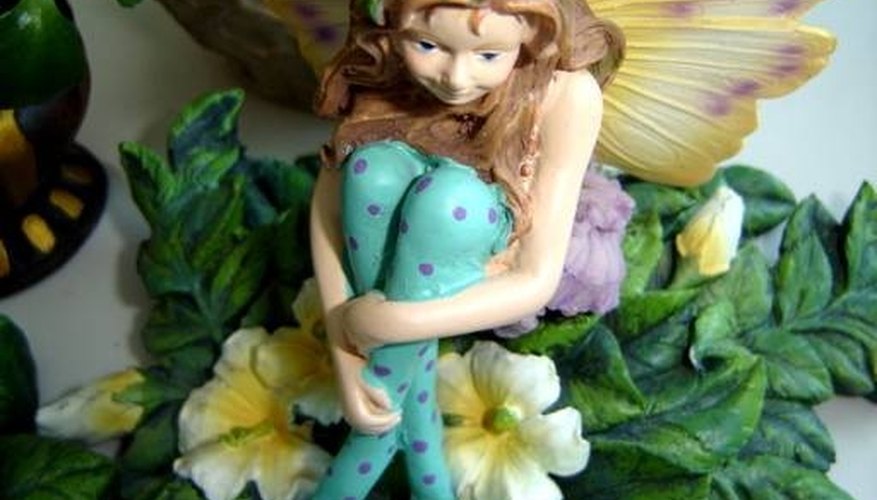 Have you experienced the following phenomena? Suddenly the leaves rustle even though the air is completely still. Blades of grass bend, but no visible feet have stepped across them. Waters that were motionless begin to ripple when there is no one near. Are there ghosts? More likely fairies, for these are some of the apparent signs of their presence. If you have a four-leaf clover handy at the very moment of these happenings, you might be able to see the fairies, because four-leaf clovers are said to be able to break fairy spells. You may have unwittingly been in the presence of fairies, but if you want to consciously search for them, here are a few hints.
Choose the right time and day. There are certain days and certain times which are especially conducive to finding fairies. According to fairy protocol, some of these days include May Day (May 1), Midsummer Eve (June 23), Midsummer Day (June 24), Christmas Eve (December 24) and Christmas Day (December 25). The best times of the day to find fairies include noon and midnight, sunrise and dusk, and early evening. It helps if on these days and at some of those precise times, there is also a full moon, a new moon, or a bright, starry sky, for these special conditions are a fairy's delight. Venture forth accordingly.
Look in the right places. They frequent intersecting paths and roadways. They love seashores and beaches. They dance in the moonlight in glades in the woods. They live in oak trees. They fly around fences and border hedges. They meet at stairwells and hallways and landings. These are some of the places favored by fairies, and there is every likelihood you could find fairies cavorting at one or more of them.
Check your yard. Fairies could be living in your very own garden, especially if you have oak trees, apple trees, bluebells, poppies, heather and lilac, which are said to be among their favorites. Gardens are a fairly obvious place to look, especially since fairies love the color green. Because fairies apparently are able to bestow good luck (and the other kind too), it is best to keep in their good books. One way might be to introduce some of their favorite flowers to your garden if you do not already have them there.
Search eggshells. They are a favorite fairy dwelling. For this important reason, never smash eggshells because you might be destroying someone's home, and thereby incur the kind of luck you would not wish to have. You could take the initiative and install purpose-made fairy homes in your garden so that you could be sure to find fairies there (see Resources).
See fairies gathered where there is clean water, milk, butter, bread, cake and wine. Make sure your kitchen is one of those places if you want the fairies to be your guests. If it is also a place filled with joy and laughter, you may be 99.9 percent certain that fairies will be in attendance. It is said that they love to eat well, and to laugh heartily which is, indeed, an ideal combination.
Learn from the case of The Cottingley Fairies, possibly the most celebrated fairy sightings in England. In 1917, 9-year-old Frances Griffiths went to stay with her 16-year-old cousin, Elsie Wright, whose home was near Cottingley beck, a small brook. They frequented the banks of the brook, to see the fairies, they said. They even took photographs as proof. The photos were eventually published with an article about fairies written by no less than Arthur Conan Doyle, the creator of "Sherlock Holmes." Read a full account in References. For further insights, watch "Fairy Tale, A True Story," a 1997 film about the Cottingley fairies, available in DVD and other formats.
Find fairies in literature. They live forever in the poetry and books and websites mentioned in Resources. Note that the often-quoted phrase "fairies at the bottom of the garden," is borrowed from "Fairies" by the English poet, Rose Fyleman (1877 to 1957). Find out what other fairy poetry she wrote. Note also that another British author closely associated with fairies was Cicely Mary Barker (1895 to 1973) who was an illustrator as well as a writer. Her first book, "Flower Fairies of the Spring" was published in 1923, and was followed by "Fairyopolis, A Flower Fairies Journal" and "Flower Fairies Magical Moonlight Feast." Barker based her fairies on her extensive knowledge of flowers and plants.