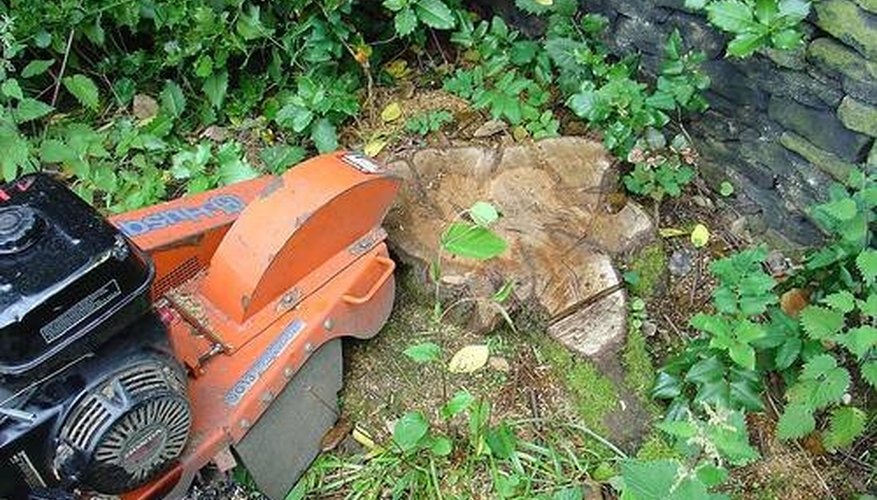 After you have cut down a tree, you are left with the stump and roots. If you had a small tree, you may be able to dig the roots out, but that is a lot of unnecessary work if you have or can rent a tree root grinder. Learn how to grind a stump the easy way with a tree root grinder and you will have the stump and roots gone in no time without any digging.
Rent a stump grinder if you do not have access to one. You will need a car or truck to haul the trailer that the grinder comes on if the rental place supplies the trailer, otherwise you will need a trailer as well. The gas-powered walk-behind machine is suitable for a non-professional to use.
Wear goggles to protect your eyes from flying debris and gloves to protect your hands from injury, especially from blisters if you are not used to this type of work.
Use a shovel to clear any dirt and rocks from around the tree stump. You must make sure that there are no obstructions around the stump that could damage the grinder wheel.
Use a chain saw to get the stump as low to the ground as possible. This will reduce the time that you spend grinding.
Position the cutting wheel over the stump. Start the wheel spinning and drop it unto the stump. Use the hydraulic lever to move the grinder from side to side to grind away at the stump. After you have one area done, reposition the grinder on the next area of the stump and repeat. The wood will start chipping into small pieces. Continue this process until you have ground the stump and the roots. You should have a four-inch deep hole when you are done, but this will depend on the size of the tree and the roots.
Remove some of the chipped wood with a shovel and dispose of at the dump. Fill the hole with clean topsoil and plant your grass seed.