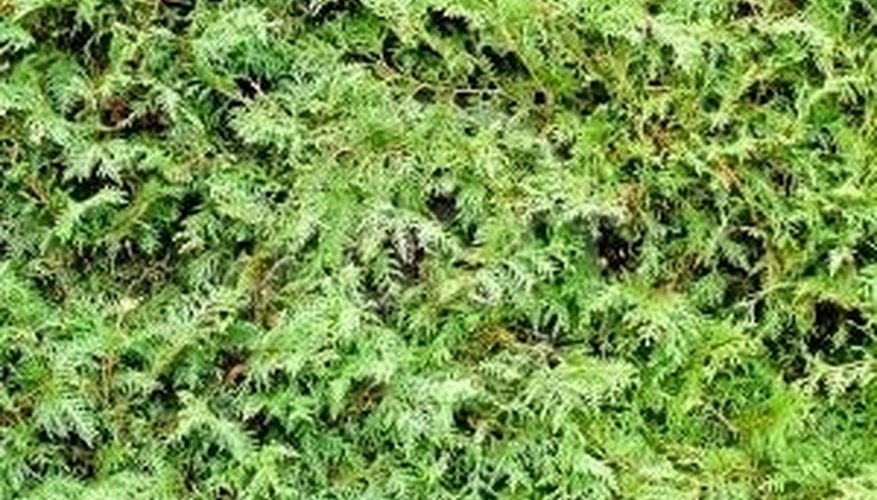 Cedar hedges are ideal for bordering your yard or garden. They are easy to grow and require little maintenance. Cedar hedges can be shaped into a privacy screen, or used as a noise barrier. The hedges can also provide protection and shelter for young plants.
Dig a trench for your hedge that's at least 16 inches wide and 16 inches deep. Pick a location that is 3 to 4 feet away from streets, heavy slopes and walkways; streets and walkways can be treated with salt in the winter months that will harm the plants, while slopes can deprive the plants of much-needed water. Choose a location that's sunny to partially shaded. Too much shade will prevent a uniform hedge from growing.
Clean all weeds, grass, stems and debris out the dirt you removed from the trench. Mix the dirt with composted manure and peat moss. If you ground is very sandy, mix one part of your dirt with two parts manure and peat mixture, otherwise one to one is fine.
Plant your cedar plants 12 to 18 inches apart. Make sure they are standing straight up as you add the soil mixture back to the ground. Press the soil down tight to hold the plant up straight. Mix a 5-15-5 transplanting fertilizer to water and soak the ground around the plants.
Keep the ground wet. Use a soaker hose to water the entire hedge at once for several hours. The plants need to be watered deep once a week, rather than on the surface every day. Water more often if it is hot and dry.
Mulch around the plants to keep the soil moist and cool. The mulch will eventually break down and provide the soil with nutrients that the cedar plants require. Use a water-soluble, 3-10-10 fertilizer in May, June and July. After July, do not fertilize again until spring. Soak well in the fall for the winter.
Trim and prune in the spring. Hedges should be slightly narrower at the top then the bottom to allow sun to get to the bottom foliage. The hedges need to be open just enough to get proper air flow to prevent disease. Prune your cedar hedges into a shape, if you like, but remember that the bottom of the plant needs sun.