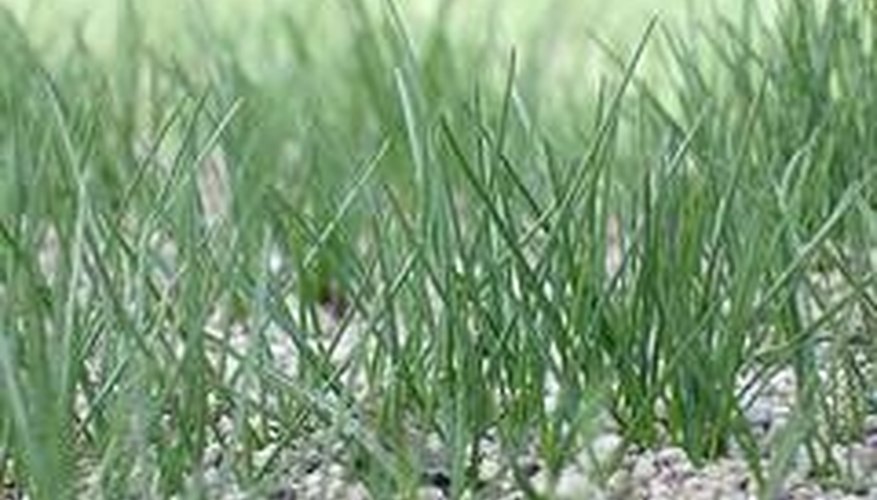 Tall fescue is a type of grass that can either be considered a weed or a desirable lawn grass, depending on the climate in your area and the dominant grass species in your lawn. In drought-prone areas, fescues are added to grass seed mixes. If you are in a rainy area, it is likely that your dominant grass is Kentucky bluegrass. It's a simple process to remove tall fescue from a Kentucky bluegrass lawn.
Use either a general purpose weedkiller or a fescue-specific weedkiller. If you choose to use the tall fescue-specific product, simply to apply the chemical to your lawn, according to the package directions. You may need to contact a local lawn care specialist to find a fescue weedkiller.
Use the a general glyphosate weedkiller, such as Roundup, according to the package directions if you cannot find tall fescue specific chemical in your area. Spray the weedkiller only on the patches of grass you wish to kill. A general weedkiller will kill everything the spray touches. Apply it only to the tall fescue clumps.
Wait two weeks, or until the tall fescue patches are completely dry and dead.
Use a shovel to remove the dead patches from your lawn. If you plan to repair the lawn with sod, cutting rectangular patches with the shovel will make your sodding job easier.
Fill the bare spots with either sod or grass seed, water and wait for the lawn to repair itself.