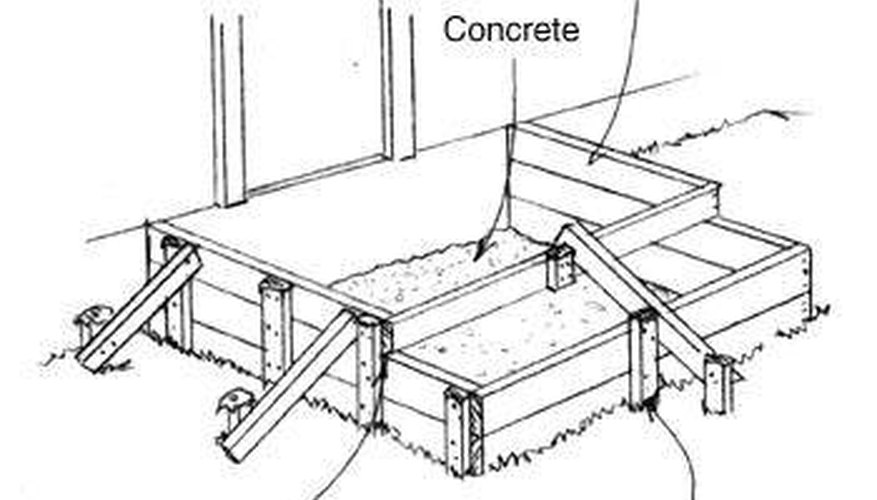 The key to success in many projects is preparation, and building a set of concrete steps is no exception. Preparation in this case involves the proper construction of a mold, or form, in which the wet concrete will be poured.
Lay out the area in which you are going to build your steps with stakes and string. Dig out the area to a depth of six inches, and tamp the soil down firmly to compact it.
Add two inches of gravel to the excavated area, spread until level, and again tamp down firmly.
Begin with the top step's form first. Drive 2x4 stakes into the ground 1 1/2 inches out from the edge of the perimeter of the desired location for the form placement, and spaced 18 inches apart.
Measure and cut lumber for the sides of the form. Use either 2x6, 2x8, or a combination of these lumber sizes for this, utilizing the different sizes to reach the desired height of the steps using whole pieces as shown in the top photo.
Slide the cut lumber into place against the 2x4 braces, check that they are plumb, and nail to the braces. Provide further bracing using 2x4 stakes out a short distance from the forms, and 2x4's nailed to both stakes at an angle as shown in the photo.
Use a light oil to coat the insides of the form that will come into contact with concrete. This will make the separating of the forms from the cured concrete easier. You are finished constructing the molds and are ready to pour your steps.
Things You Will Need
Stakes

String

Shovel

Gravel

Tamper

Measuring tape

Circular saw

2x4, 2x6, and 2x8 Lumber

Hammer

Nails

Light oil
Tip
If you wish to have curved steps, use 1/4 inch plywood or hardboard for those areas of the forms.
Resources