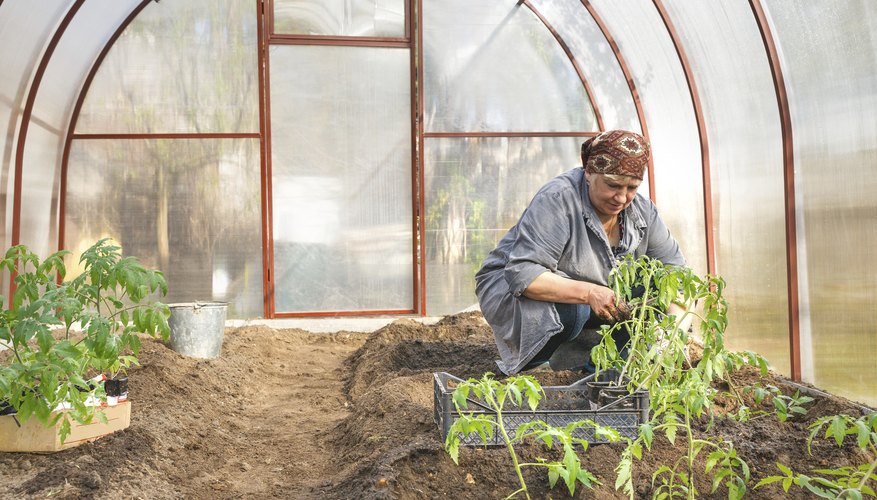 If you're into gardening and looking to go green on the cheap, building a hoop house for your plants is a good way to start. A hoop house is a very simple, unheated greenhouse capable of protecting your garden from rain, wind, and frost; the shelter it creates can raise the daytime temperature by 5 to 10 degrees Fahrenheit or more. Hoop houses are a cost-effective way to extend the life of your plants and expand your gardening options.
Mark the spot in your garden where you will construct the hoop house. Be sure you have enough space. Allow for a hoop house about 10 feet wide, 21 feet long and 7 feet tall in the center.
Drive the 30-inch PVC pipes into the ground every 36 inches along the long sides of the hoop house site. These will be your stakes. Cut the bottom of each pipe at an angle to sink them more easily into the ground.
Form the hoops of the hoop house one by one. The two end hoops are made by joining two 10 foot lengths of PVC pipe together with one PVC T-connector. Secure with PVC cement.
Form the six hoops in between the two ends by connecting two 10-foot lengths of PVC pipe together with the PVC crosses. Secure with PVC cement.
Slide the ends of each hoop over the 1/2-inch PVC stakes individually. You should now have eight hoops in parallel lines every 36 inches along the length of your hoop house.
Connect the hoops together with a ridgeline. Use the 34-inch sections of PVC pipe to connect the hoops together at the top, one by one, at the PVC T-connectors and PVC crosses. Secure with PVC cement as you proceed.
Hang the plastic sheet over the PVC hoop frame. Attach the sheet to the hoops on either end with binder clips. Do not try to attach to the hoops in the middle.