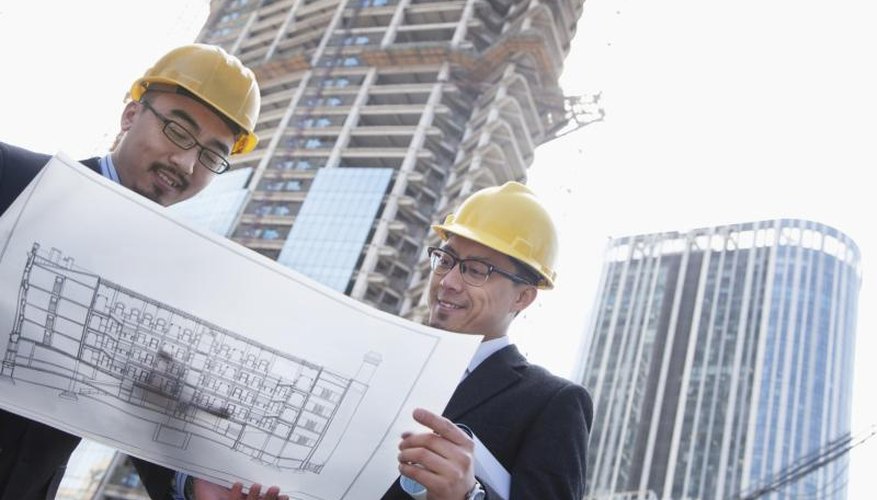 Every engineering project starts with a good idea, but once the idea is concrete in someone's mind, it needs to be solidified in engineering blueprints. The blueprints are drawings that engineers and other professionals use to construct the structure. At first glance, these blueprints can seem like hieroglyphics, but reading them requires just a bit of basic information. Read on to learn the fundamentals of how to read an engineering blueprint.
Blueprint Pages
Step 1
Determine the scale of the blueprint. Engineers have to make their drawings to scale because it is impossible to draw some projects in actual size (e.g., a house). The most common scales used are 1/4 and 1/8 -- that is, 1/4 inch or 1/8 inch on the blueprint represents one foot -- but other scales may be used as well. If the engineer has multiple blueprint pages, each page may use a different scale, depending on how detailed the page is intended to be.
Step 2
Familiarize yourself with the basic symbols used. Engineering blueprints use all sorts of symbols to represent various structures and specific types of those structures. These symbols include circles, rectangles, triangles, lines, etc.
Step 3
Look for numbers that are circled. Unlike the numbers that may be associated with some of the symbols on the blueprint, these numbers tell you that an additional page will show a more detailed drawing of a particular part of the structure. It is similar to a footnote, with the footnote being the drawing elsewhere in the blueprint set.
Step 4
Check for abbreviations. Abbreviations may be used in place of symbols in some cases. Common abbreviations include DP (depth), SF (spotface), and DIA (diameter). The abbreviations can refer to things such as dimension, but they also can refer to a process. Spotfacing, for example, refers to the smoothing of the surface around a hole so that a washer or fastener head can sit flush against the surface.
Step 5
Familiarize yourself with the more specific symbols on the blueprints. Although basic symbols are used on all blueprints, there are many different kinds of engineering blueprints, and different symbols are used on each type. You can learn about the specific symbols for your engineering blueprint through university classes, online classes, or websites.