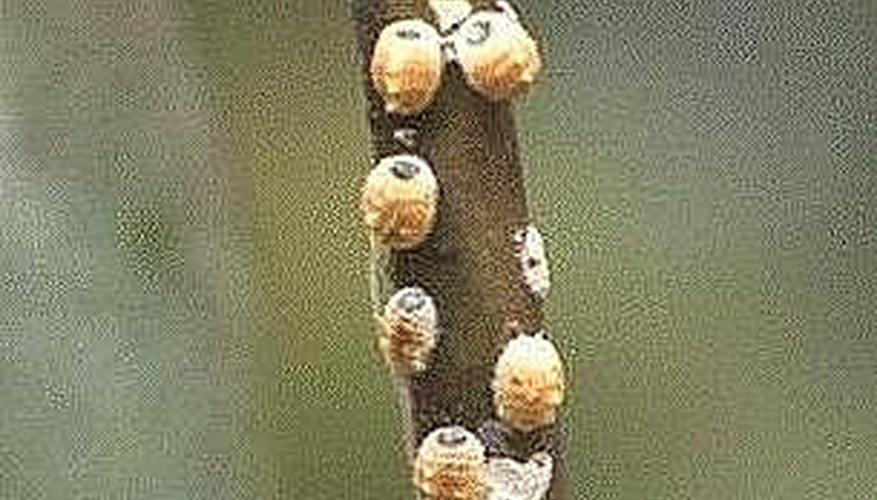 Scale insects are an enemy of great skill and cunning for those tending plants indoors or out. These little guys not only suck the life from your plants, but also have some major protection to boot. Detecting and controlling the little bugs takes a keen eye and hands-on work.
Step 1
Ensure you are dealing with a scale insect infestation before you begin treating your plant. A scale insect has two stages of growth -- tiny immobile adults covered in whitish waxy armor and resemble small bumps on the plant stem. Hatchlings, called "crawlers," are smaller with legs. Some species lose their legs once they settle in to feed. Put a ring of black electrical tape around the steam of a plant in the early part of the scale bugs season to trap crawlers and show you what you are looking for.
Step 2
Apply horticultural oil to the plant In the early part of the growing season. The oil leaves a residue to combat scale bugs. Test a small amount of the oil on the plant first, in an inconspicuous area, as varying oils have varying degrees of effectiveness and may damage plants.
Step 3
Spray on insecticidal soap if scale insects are already established in their adult form. Again, test since insectidal soaps may harm plants, just like horticultural oils. These soaps do not leave a residue and must be reapplied periodically.
Step 4
Prune away affected branches for light infestations. Just remove the infested branch, twig or leaf -- they are usually on the underside of the leaf. This is the most effective way to control scale insects. Also you may use a sponge to gently brush scale insects away from the plant.
Step 5
Set loose the scale insects' natural predators -- ladybugs, soldier beetles and parasitoid wasps -- to combat infestations on outdoor plants. These all can be purchased or lured to your garden to provide an environmentally sound method of control for years to come.