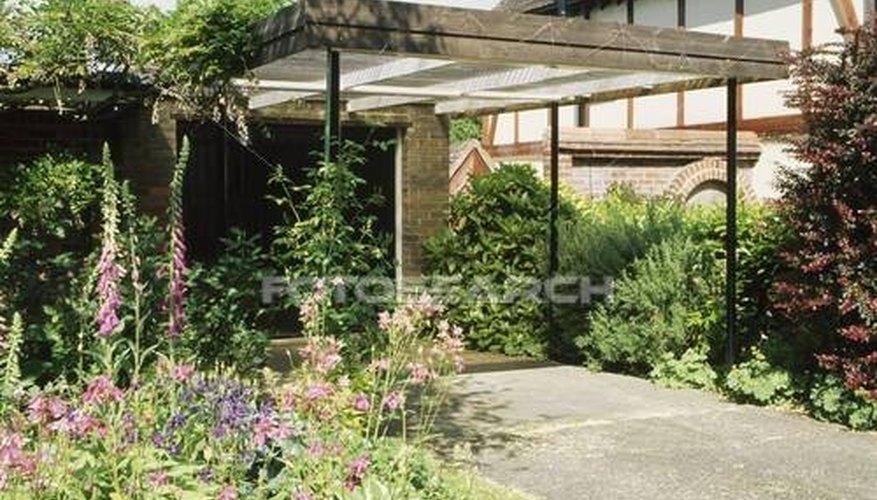 Laying down a concrete foundation, or slab, is a very doable homeowner project. With very few building skills you could pour your own concrete slab. It will depend upon whether your slab is for a home, a garage or just a small carport, how much cement you will need, but the same rules apply. Once you prepare your cement forms, the rest is easy. Just make sure the preparation is correctly done.
Excavate the dirt 6-inches from the top of the slab. Use a shovel. Dampen the earth and then tamp it with a hand held tamper to flatten the earth.
Place a 2-inch layer of wash stone in the hole. Level the stone and tamp it down.
Build a form around the hole using 2-by-6 boards. Connect the boards at the ends with 8-penny nails. If the boards run long, cut them using a circular saw.
Hammer 12-inch wooden stakes behind the form boards to hold the boards in place. Nail the stakes to the form boards using double headed nails. (Double headed nails are easier to remove when it's time to take the boards down.)
Put two runs of #4 rebar along the length of the carport. Suspend the rebar up from the dirt using rebar chairs that you can purchase at any home store. (If the rebar touches the dirt, or is exposed to air, it can corrode.)
Mix up a batch of cement in a rented cement mixer. Follow the manufacturer's recommended mixing procedure. Pour the cement into the hole, over the stone and rebar, 2-inches thick.
Use a trowel to smooth out the cement before it dries. Trowels come with long handles for reaching across cement slabs. Once the cement is smooth, let it cure for at least 48 hours.
Things You Will Need
Shovel

Tamper

Wash stone

Level

Tape measure

8-penny nails

Hammer

Circular saw

12-inch wooden stakes

Double headed nails

#4 Rebar

Cement mixer

Cement

Trowel
Tip
Rebar is faster and easier to lay than using a mesh.
Warning
Do not use a bonding material in your cement unless you feel like your carport slab is going to sink below the driveway.