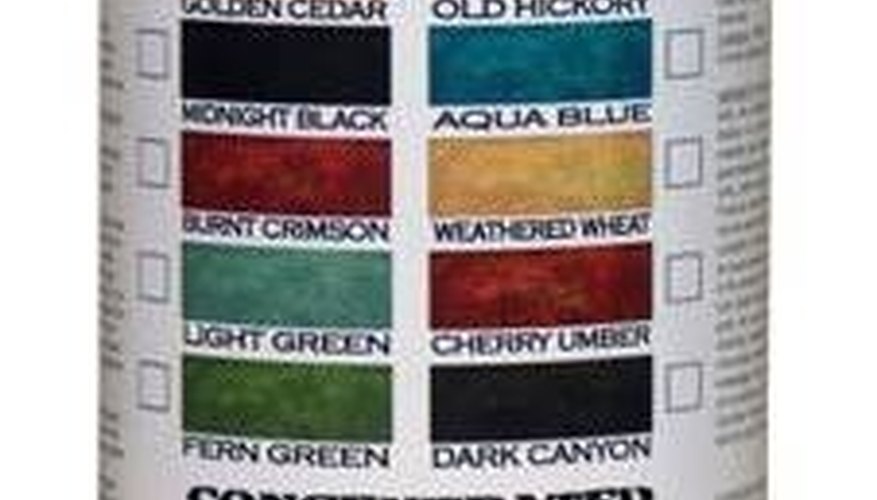 Acid-etch staining is a process that many homeowners and commercial builders use to enhance the color and appearance of concrete flooring. This process can be applied to both new or old concrete floors. The only stipulation is that the concrete must be clean in order to obtain the best results. Like wood, concrete is a porous material. If existing paint, varnish, dirt, grease or other sealing material is present, it will inhibit the acid's ability to reach its full staining potential.
Tape masking paper on the walls to protect them from the acid. Cover any exposed woodwork, cabinets, metal fixtures, etc.
Move to a location with good ventilation. Put on protective gloves and goggles. Put on painter's mask. Mix the acid-etch stain in a plastic bucket according to the manufacturer's directions. Pour the acid-etch stain mixture into the plastic pump sprayer.
Prime your pump sprayer according to the manufacturer's instructions to ensure a smooth flow of acid-etch stain. Move back to your work area. Keep the sprayer wand 18 inches to 24 inches above the floor and apply the acid-etch stain in a random pattern until the whole floor has been wetted.
Allow the first coat to dry for 1 hour. Observer the color that emerges in the concrete. If you want a deeper color, apply a second coat, wait an hour for the floor to dry and observe the color again. Continue this process until the concrete reaches the color you want.
Allow the floor to dry completely. Neutralize the acid by spraying the entire treated surface with a solution of 1 part ammonia to 4 parts water from a clean pump sprayer. Allow the floor to dry completely. Finish the cleaning process by mopping the entire treated area with clean water.