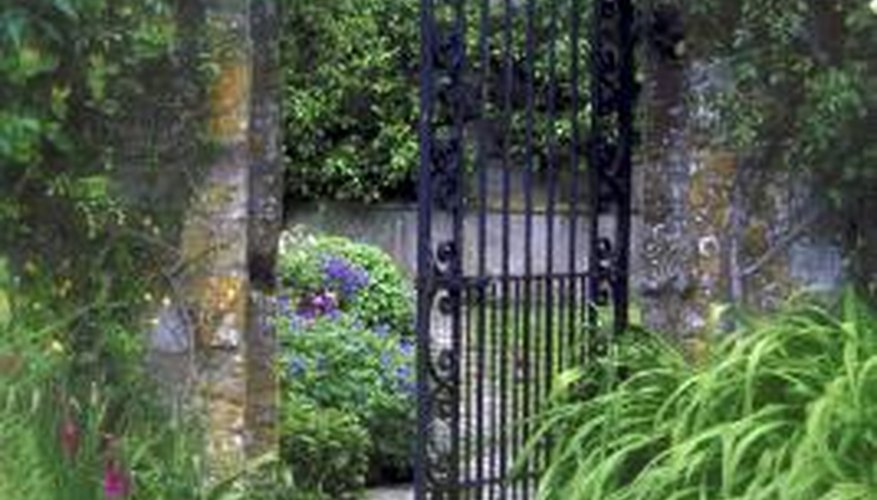 Even with houses often built very close together on small lots, privacy is an essential requirement for a peaceful home life. Privacy helps you escape from noisy streets, nosy neighbors and bright lights. It shields your yard from others and also keeps you from seeing what goes on in a neighbor's home. Most privacy issues can be solved with fences and landscaping. When your yard is private, it can almost feel like you've added an extra room to your home.
Step 1
Determine what views you want to block or what you want to be shielded from. Walk around your property at different times of the day to get a full assessment. It may seem that it is obviously the neighbor's pit bull, but you may also notice the glare of a bright light at night.
Step 2
Erect a fence to shield views that are unattractive. Build it slightly higher than eye level, about 6 feet. if you have a fence in place and it's not tall enough, extend it by adding a trellis or mounting a flower box on top. If you have a long stretch of wall, break it up by adding columnar shrubs such as junipers or by growing ivy on the wall to add some green and soften the appearance.
Step 3
Plant bamboo in lieu of a fence. Bamboo is a fast-growing green alternative to wood or brick. Ask an expert at a nursery which type works best as a screen in your soil. Be sure to plant a selection whose roots can be contained so the plant will not take over your yard.
Step 4
Place a wall fountain near an area with lots of noisy distractions. The sound of the water will mask some of the nearby noise and give you something more pleasant to listen to.
Step 5
Add a berm to drown out noise. A berm is a mound of dirt that can be planted with trees and shrubs. A berm is an effective way to drown out noise from the neighbor's loud parties or the continual flow of traffic. When planted and not left bare, it's an attractive addition to your backyard.
Step 6
Place a greenhouse, garden shed or arbor to block out an unsightly view. Be sure to comply with all city codes and don't build something that will be unattractive to your neighbor's view.