Hiring a concrete crew to prep, frame, pour, and finish a concrete porch slab for you can be very expensive. But with the right know-how and the right tools, you can do all of it yourself, and save loads of cash at the same time. Many rental centers, like The Home Depot, rent all of the tools you will need, from cement mixers to finishing tools, so do a little research and see what is available in your area.
Step 1
Level the ground on which the porch slab will be installed by adding, removing, or transferring the existing soil with shovels and a level. For large porches, renting a large earth-moving machine will make this process faster and easier.
Step 2
Frame the porch installation area with either 2-by-4 or 2-by-6 lumber. Nail the lumber together at the corners, and level the frame by driving stakes into the ground around the perimeter of the frame and nailing them into place.
Step 3
Line the ground within the framing with re-mesh, which is smaller-gauged rebar that will reinforce and strengthen the concrete slab. Cut the re-mesh to size with a hack saw or wire cutters.
Step 4
Calculate the amount of concrete you will need to order from your local concrete supplier by measuring the volume of concrete needed (length x width x depth). For example, a porch measuring 12 feet long, 8 feet wide, and 6 inches deep will require 1.78 cubic yards of concrete. 12 x 8 x .5 = 48 cubic feet 48/27 = 1.78 cubic yards
Step 5
As the concrete is being poured, screed the wet concrete so it is level with the framing lumber. Use a bull float to smooth the surface of the concrete. Allow the concrete to set up for 1 hour after it has been poured.
Step 6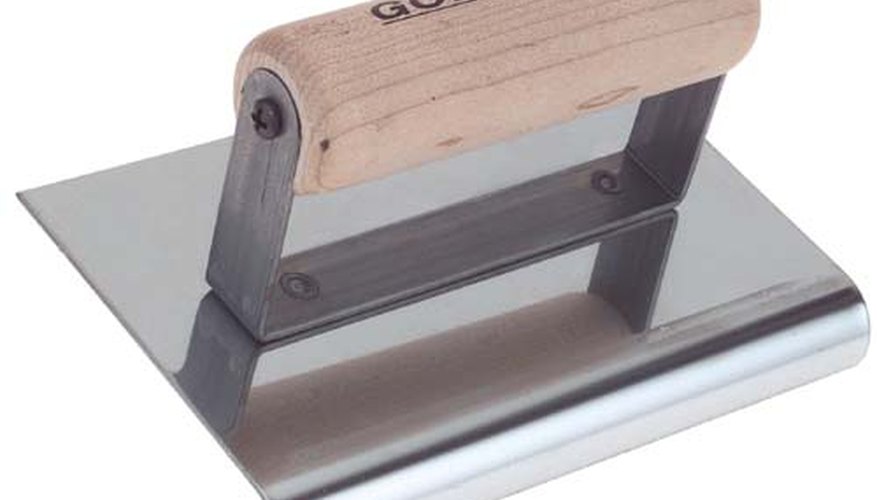 When the concrete is stiff, round the edges of the concrete around the inside perimeter of the framing lumber with a rounded edging trowel.
Step 7
Add grooves to the concrete with a Fresno trowel and an adjustable groover, if desired. Allow the concrete to cure completely before it is placed under regular use.