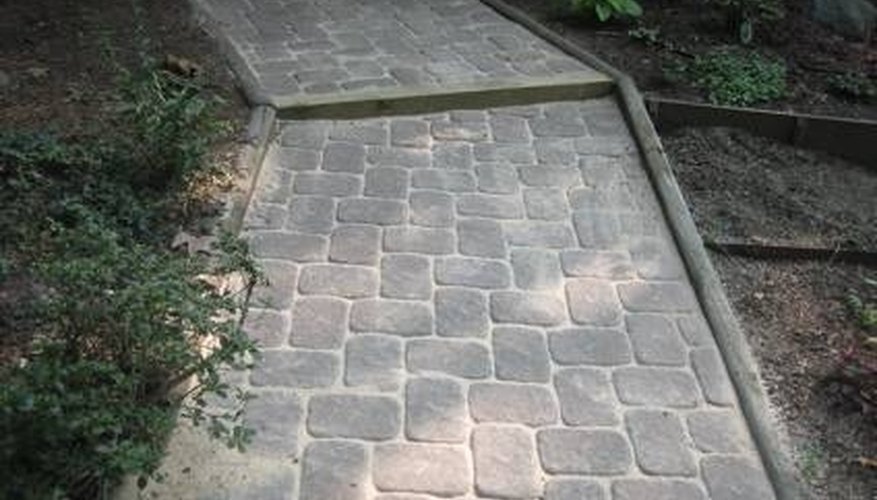 Creating your own patio or walkway out of concrete pavers isn't difficult, but you have to do it right if you want it to last. Just laying the pavers over your grass may look fine at first, but they'll soon shift, sink and be overtaken by grass or weeds. It's better to set aside a day to install the pavers correctly, then enjoy your patio for years.
Stake out the perimeter of area you want to pave. If it's grass-covered, use the spade to dig up the sod. Pack down the remaining dirt with the back of the spade.
Roll the weed barrier over the area, pressing it into place around the edges. Spread the sand over it, using enough to cover the area 3 to 4 inches deep. The amount of sand you need will depend on how big of an area you have. For instance, a 10-by-10-foot area will need at least 25 cubic feet of sand--100 square feet of ground at 3 inches deep is 300 cubic inches of sand, divided by 12 inches, equals 25.
String the twine between the stakes at the perimeter, a few inches above the surface of the sand. The twine should roughly form an ``x'' over the area. Using the string-level, adjust the twine on the stakes to get it level.
Work the surface of the sand with the spade to get it roughly even and level. Use the leveled twine as a visual guide.
Spray down the sand with the garden hose, on a gentle-spray setting so it doesn't shift around the sand. Soak it well, give it few hours to drain and dry, then repeat. The goal is to get the sand compact and relatively hard.
Lay the pavers, working from the edge of the area inward so you're not stepping on the sand. Lay them in a staggered configuration, so there is no point where more than two of them intersect in one place. Leave a 1/2 inch of space between the stones.
Spread enough sand over the pavers to fill in the space between them. Hose it all down again, and let it drain and dry.