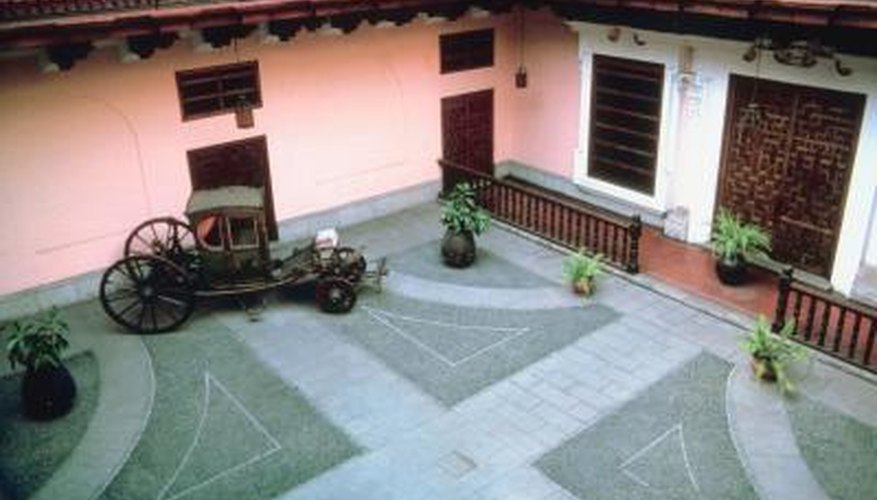 One of the most durable materials for your patio is concrete. It can withstand a degree of abuse and hard weather conditions. In order to extend the life of your concrete patio you need to apply sealer. Sealer will help repel stains from spilled items and will prevent water from soaking into the concrete. Apply the sealer to a clean, dry surface to avoid trapping moisture in the concrete.
Step 1
Fill a bucket of water with cool water and 1 to 2 tsp. of dish detergent.
Step 2
Rinse the patio with a garden hose to remove any loose debris.
Step 3
Dip a sponge mop into the bucket of soapy water and gently scrub the patio.
Step 4
Rinse the soapy water until the water runs clear. Allow the patio to dry overnight.
Step 5
Apply the sealer using a paint roller or a nap roller. Work in small sections that are less than 4 feet to ensure you cover the entire area.
Step 6
Wait 2 to 3 hours for the sealer to dry and apply a second coat. Test the patio to see if it is dry by lightly touching the last place that you applied the sealer. The sealer should not be sticky. Wait at least 4 hours after you have applied the last coat of sealer before walking on the patio.
Step 7
Apply a maintenance coat, or a single coat of sealer, when the it begins to look dull. Clean the surface of your patio and reapply the sealer as described above.
Things You Will Need
Pressure washer (optional)

Brush, roller or garden sprayer

Silane/siloxane water repellent

Soapy sponge or rag
Tip
A 5-gallon container of sealer will cover approximately 1,000 square feet of concrete.
Warnings
Not for use with colored concrete

Do not allow ponding of material

Concrete must be cured 28 days prior to application

Allow to dry for 24 hours before the next rain