Your swimming pool is exposed to the elements and will undoubtedly grow unattractive because of it. Leaf stains, dirt and rust are issues that you will face over time if you do not have a dedicated maintenance person to help you. Save time and money by investigating what may be causing the stains on your swimming pool and removing them yourself. You will have a better chance to remove the stains the proper way if you know exactly what has caused them.
Study any white parts of your pool and look for dark-colored stains. Analyze the steps, water return system, suction fittings and automatic pool cleaners closely.
Test for metallic stains by cutting a fresh lemon or lime in half and rubbing it on the affected area under the water. If the stain fades instantly or lightens, you have a metallic non-organic stain. Test for metallic staining further by using a granular pH decreaser or uncoated vitamin C tablet in the same manner that you used the lemon or lime.
Test for organic stains by repeating the process outlined in Step 2 with a chlorine tablet. Rub the tablet on the surface in question for just a few seconds. If the stain fades or goes away, you have an organic stain caused by leaves, dirt or some other organic matter.
Consult a pool supply store or swimming pool maintenance specialist for tips on keeping the stains from developing further. Make sure to explain your results and testing procedure clearly for the best advice.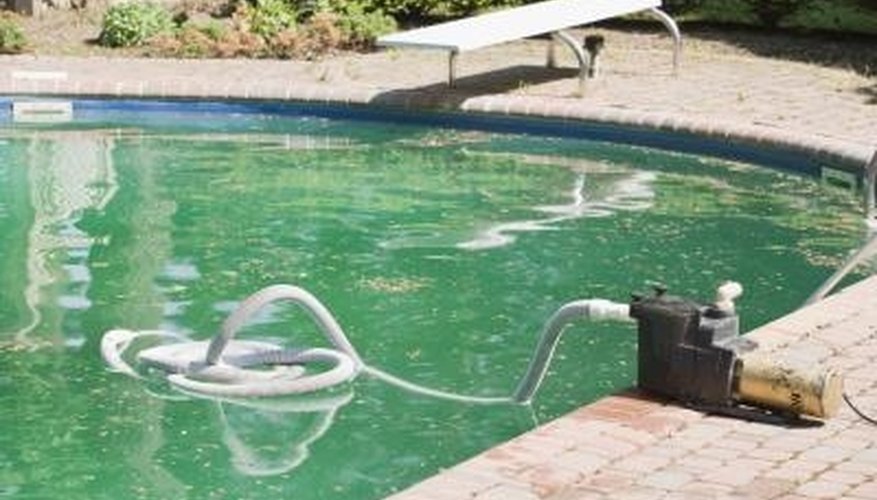 Get your water tested regularly by providing a sample to a pool supply store or swimming pool maintenance specialist. Test the water yourself on a regular basis by purchasing a testing kit that will help determine the pH balance level of your water. Use high-quality chemicals and tools in the maintenance of your swimming pool.