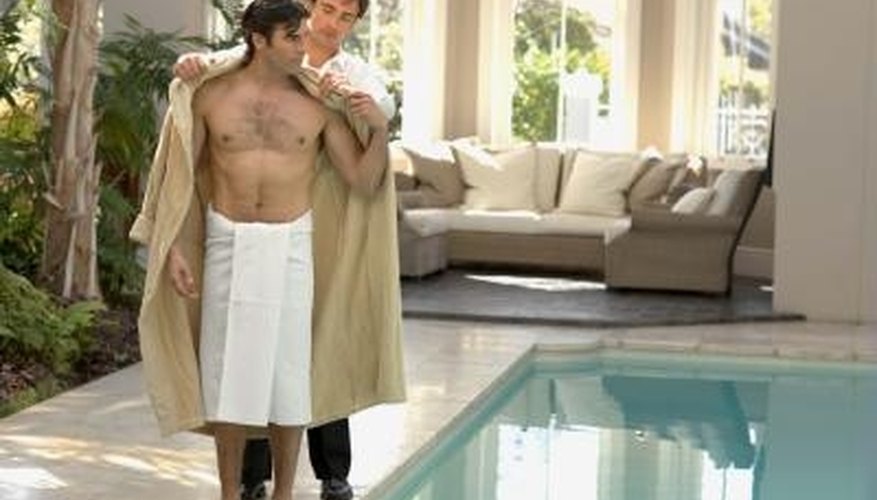 Hayward pools have a number of filters, pumps, heaters, cleaners and lights for your in-ground or above-ground pool. A pool filter removes debris, dirt and other impurities from your pool's water to keep it clean. The filter needs to be cleaned when the pressure is higher than 8 to 10 lbs. per square inch. The pool filter will have a pressure gauge that lets you know the pressure in the pool.
Turn off the Hayward filter's pump and close the suction and return valves. Turn the air relief valve two to three times to open it.
Open the drain valves and the suction valves and let them run until the water runs clean.
Press down on the safety latch and turn the filter's lid counterclockwise. Pull the filter element out of the filter's case. Hose off the outside and inside of the filter element with a high-powered nozzle.
Fill a bucket with 1 part filter element cleaner and 1 part water. Place the filter element into the bucket and allow it to soak for one hour. Rinse off the filter with clean water.
Fill a bucket full with 1 part muriatic acid and 1 part water. Place the filter element into the bucket and let it soak for 15 to 30 minutes. Rinse off the solution with water when finished.
Remove the debris from the bottom of the filter's tank. Replace the filter element into the filter and screw the lid back on clockwise. Restart the filter.