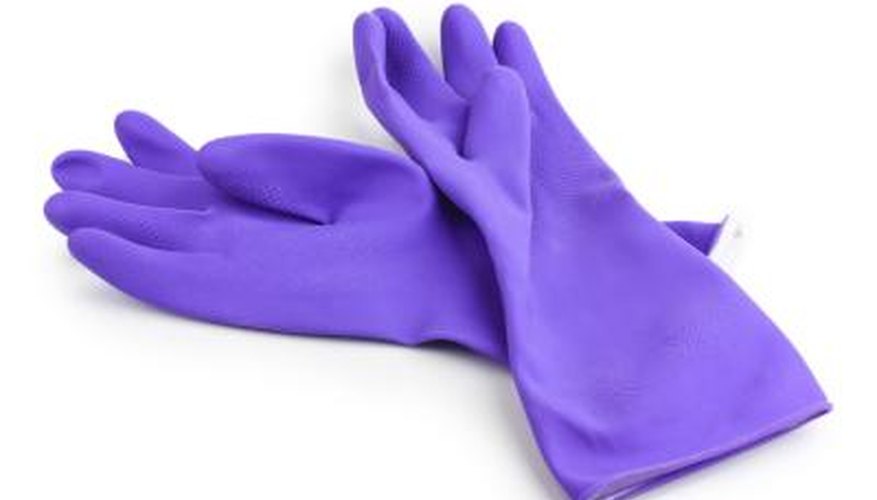 belchonock/iStock/Getty Images
If you share your home with a four-legged friend, it's probably only a matter of time before you discover a urine stain on your concrete patio, sidewalk or garage floor. If you've blotted up the spill with paper towels and have tried to remove it with a detergent, don't feel discouraged. You'll have to turn to a "big gun" cleaning agent, but by exercising caution while you use it, you can remove all traces of the stain.
Step 1
Put on a long-sleeved shirt, long pants and gloves to protect your skin. Put on plastic goggles to protect your eyes and a face mask to protect your respiratory system.
Step 2
Pour 1/2 cup of trisodium phosphate into a bucket. Run the faucet until the water runs hot. Then fill the bucket with 1/2 gallon of water.
Step 3
Pour the solution directly onto the urine stain. Let it break down the acid crystals in the urine for about 20 minutes.
Step 4
Scrub the stain with a hard-bristled brush. Rinse the residue with water.
Step 5
Repeat the cleaning process, if necessary, until the stain is gone.
Things You Will Need
Long-sleeved shirt

Long pants

Gloves

Eye goggles

Face mask

Trisodium phosphate

Bucket

Hard-bristled brush
Tip
TSP can burn. If it accidentally comes into contact with your skin or eyes, flush the area with cool water.