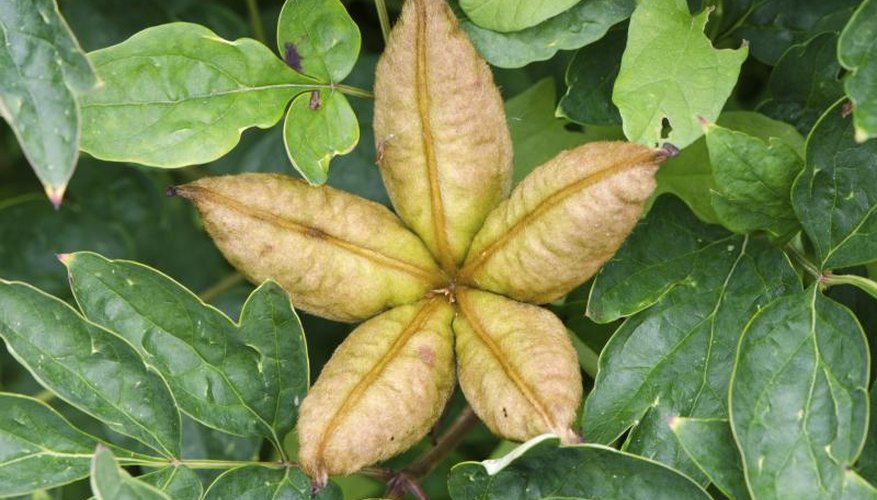 Among the showiest perennials, herbaceous peonies (Paeonia spp.) can reach 4 feet in height with single, semi-double or double flowers up to 10 inches across. The plants' hardiness range extends from U.S. Department of Agriculture plant hardiness zones 3 through 8. Most garden peonies are hybrids. Therefore, their seeds don't produce plants that look like them, but you can create your own peony varieties by planting their seeds. Peony seedlings are usually at least 3 years old before they bloom.
Watch for the Seeds
Because peonies typically bloom in spring or early summer, their seeds mature by late summer -- most often in August, though the seed harvest period can run from July through September. The seeds are ready for harvest after their pods have turned dark brown and begun to crack open.
Not all seedpods contain seeds. So don't be deceived into planting the dark bits of chaff sometimes found in empty pods; those chaff bits may resemble seeds. Peony seeds are spherical like marbles, about 1/4 inch in diameter and usually tan or black when mature. Just before you plant the seeds, you may wish to wash them in a solution that is 1 part bleach and 9 parts water to kill any fungi on their surfaces.
Plant the Seeds Outdoors
Peony seeds that will be planted outdoors should be sown soon after they were harvested. Plant them 2 inches deep and 2 inches apart in a partially shaded garden bed with rich, well-tilled, pH-neutral soil. After watering the bed well, cover it with a 2- to 3-inch-thick layer of mulch, such as dead leaves or straw. Ensure the ground remains moist, and add another 2- to 3-inch-thick layer of mulch in late autumn.
The seeds should begin to sprout in early spring of the following year. Pull back the seedlings' mulch at that time, and feed their soil every other month from April to September, using 2 tablespoons of an organic fish and seaweed fertilizer such as 2-3-1 mixed with 1 gallon of water to saturate the ground.
Transplant the seedlings in early autumn so that they stand 6 inches apart, and mulch their soil surface with a 2- to 3-inch-deep layer of dead leaves or straw, ensuring the mulch doesn't touch the plants. Two years later, you can move the peonies to their permanent positions in a site that receives full-sun exposure, placing them at least 3 feet apart with their tubers' or roots' buds -- called eyes -- no more than 2 inches deep.
Plant the Seeds Indoors
If you prefer, you can start your peony seeds indoors instead -- in late summer or early autumn of the year they were harvested -- and transplant the seedlings into the garden the following autumn. Begin by placing the seeds in a zipper-type plastic bag with two handfuls of damp peat moss, sand or vermiculite. Set the bag in a warm, out-of-the-way place, such as on a high shelf or the top of a refrigerator. After one month, begin checking the bag for signs of roots, which can take up to three months to appear. Each seed will make only one root at this point.
When the roots are 2 to 4 inches in length, prepare a separate bag that also contains two handfuls of damp peat moss, sand or vermiculite. Transfer the rooted seeds to that bag, and place the bag inside a refrigerator for three months. After the three months elapse, move the bag to the warm, out-of-the-way position again.
Each rooted seed should begin making a leaf, either near the end of the three cool months or after the bag was taken out of the refrigerator. When that happens, pot each seed in its own seedling pot filled with potting soil, with the seed at the surface of that soil, the leaf above the soil and the root beneath the soil.
Care for the Indoor Seedlings
Once the seedlings are in pots -- probably in late winter or early spring, depending on when their leaves appear, keep them healthy and growing until autumn. Place them under a grow-light or on a windowsill that receives partial sunlight, watering them as needed to keep their soil moist. You can feed them once every two weeks from spring through summer with 1 tablespoon of a 2-3-1 fish and seaweed fertilizer diluted in 1 gallon of water.
After warmer weather arrives in summer, the potted seedlings should be moved to a partially shaded position outdoors. In early autumn, remove the seedlings from their pots, and plant them in a partially shaded garden bed, locating them at the same soil depth at which they grew in their pots and spacing them 6 inches apart from each other. A 2- to 3-inch-thick layer mulch of dead leaves or straw on their soil surface, but not touching them, will protect the plants.