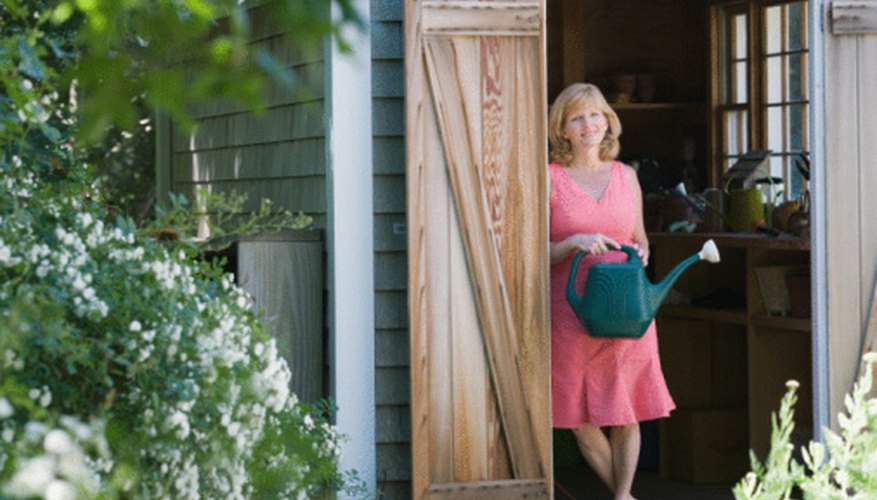 For convenience, a shed is the ideal spot for storing the lawnmower, your gardening equipment and lawn furniture during the off-season. Yet the small building can stick out like a sore thumb in your yard unless it's integrated into the overall landscaping design. Exercise your green thumb to beautify the shed's presence as an outdoor structure on your property. Whether it's a rustic wooden shed that's been in place for years or a brand-new metal structure built from a kit, you can beautify it with plants, trees and a touch of creativity.
Build a walkway that connects your shed visually with the rest of your landscape. Design a path with curves to soften the visual impact of the shed's angular lines and flat surfaces. Use attractive hardscape materials like bricks, flagstones or concrete pavers for the path's surface. Extend the path's terminal point at the shed's door into a small patio made of the same paving materials.
Install an arbor that arches over the shed door to support clematis, climbing roses, fragrant honeysuckle or other flowering vines. For a shed with a wide roll-up or double-doors, place a trellis to one side where it won't interfere with the door's function yet adds dimension and a framework for vines to climb.
Plant espalier fruit trees along the wall on a sunny side of the shed. The trees, with their branches pruned and trained to grow along a flat plane, obscure the shed wall with foliage and bring seasonal interest to the area with springtime flowers, summer fruit and autumn-colored leaves. For a side of the shed that is partially shaded, camellia shrubs and redbud trees may be trained to grow in espalier patterns.
Establish foundation plantings around the shed to blend the structure into the surrounding landscape design. Place taller evergreen shrubs, including rhododendrons for shaded areas, near the building. Set smaller shrubs like azaleas and perennial flowers in front, and depending on how much space you have, include several low-growing ground-cover plants as a transition between the shed area and your lawn or garden.
Add a variety of textures and colors to your shed's exterior with containers. One or two large planter boxes, each holding a single, tall ornamental grass plant, make a simple landscaping accent. Go bold with a grouping of pots and containers filled with colorful flowers and trailing plants cascading over their edges. For a more subtle approach, arrange a container herb garden along the walkway leading to the shed.