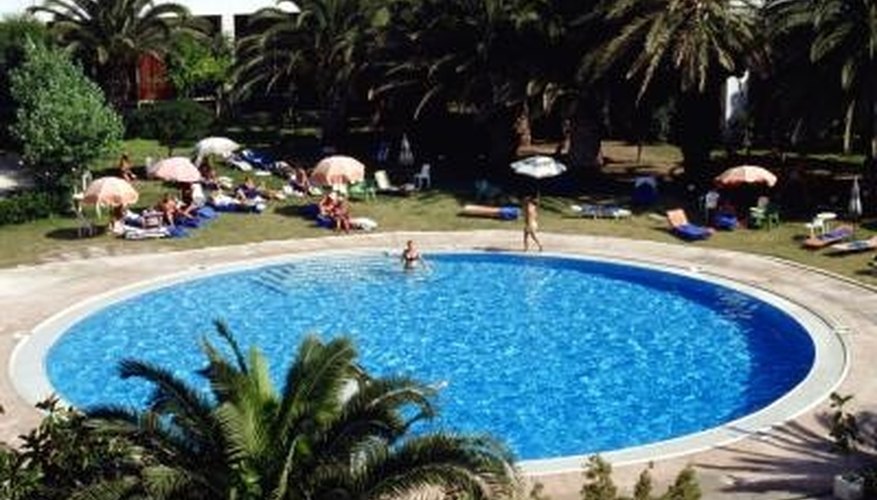 The right remodeling procedures make an older inground pool look new. An inground pool offers warm weather enjoyment for many homeowners. The fixture also acts as a landscaping feature for your yard. When an inground pool becomes faded from the sun and chlorine or simply goes out of style, it is time to remodel. Be aware of the costs of professional remodeling. Some costs may be reduced with do-it-yourself projects around the pool instead of hiring a professional.
Fix any leaks or cracks in the pool. Drain the pool according to the city or county designated procedure. Look for any damage in the pool and make repairs using the appropriate repair kit. Kits are available at pool maintenance outlets.
Clean the interior of the pool with bleach. Scrub the empty and repaired pool with a push broom to remove any stuck-on dirt and debris. Allow the area to dry.
Apply a new coat of paint. Pool paint is available at pool supply stores. Apply a thick coat with a roller and allow to dry.
Replace the tile around the edge of the pool. Break up the old tiles with a hammer and dispose of them. Chisel away the old adhesive. Lay the new tile using the recommended adhesive for the type of tile selected.
Add a fresh layer of concrete around the edges of the pool. Mix the concrete according to the manufacturer's recommendation and spread a thin layer evenly around the pool area. Allow to dry for at least 48 hours before use.
Place new lawn furniture and landscaping items around the pool. The final touch to a new pool is the surroundings. Plant new shrubs and grasses around the area and place new tables and chairs around the deck.